Beard care is important for black guys as their hair is coarser and curlier. And that is why using the best beard butter for African American men becomes necessary to get softer, manageable facial hair.
Clean shaven faces have their appeal. But nothing beats the masculine beauty of a face full of facial hair. Whether it's the bushy, hipster look or the suave French beard, facial hair of all kinds is in right now.
But with great beards come great responsibilities! So you have to use the right shaving creams, beard washes, oils, and other grooming products to keep it looking its best. African American hair requires more care and nourishment as it's coarse and has a high porosity.
So good thing we've got this list of the best beard butter for African American guys. These products help soften your facial hair and leave it sleek and healthy. Here are our favorite picks!
Top Beard Butter For African American Men
Shea Moisture Mens Full Beard Detangler
This beard detangler is among the best beard butter for African American men, thanks to its nourishing formulation. The product contains a blend of shea butter and maracuja oil that conditions your facial hair from deep within.
As black men have coarser, curlier facial hair, this ultra-moisturizing detangler is just the thing needed to leave the beards smooth and shiny. And the best part? It's non-greasy! So the woman in your life can run her fingers through your beard without any embarrassment on your part.
We also like how this beard detangles is easy to apply. It's also free of mineral oils, parabens, phthalates, and other harsh chemicals. Shea Moisture doesn't test on animals either. So that's one weight off your conscience.
Suavecito Beard Butter
The Suavecito Beard Butter is excellent if you want a product that nourishes your beard, shapes it, and leaves it smelling amazing. It's a multitasker that way. And all this for a very reasonable price. The beard butter also lasts for a long time, as a little product goes a long way.
We like the trio of coconut oil, castor oil, and shea butter that conditions your beard from deep within. This product also has a light hold and can be used to set your beard into the desired style. It leaves behind a little shine, but you can always add a drop of beard oil to increase the sheen.
Suavecito also has an excellent beard shampoo and conditioner that we recommend using with this beard butter.
Solo Noir Smooth Skin Conditioner
This one is one of the best black-owned beard products in the market today. The two-in-one formula helps nourish your skin as well as your facial hair. We like how the avocado, shea butter, and almond oil formulation helps restore your skin's collagen and prevents fine lines and wrinkles. So this skin conditioner is not just a good beard softener. 
The formula also helps restore the skin's natural pH balance, making it great for sensitive skin. We recommend using the Solo Noir Cleanser+Toner along with this skin conditioner to make the most of your beard grooming process.
Honest Amish Classic Beard Oil
Okay, okay. So we know this one's not technically a beard butter. But this beard oil is just so good we couldn't help but include it on our best beard butter for African American hair list.
The natural, organic formulation contains a blend of premium oils, including avocado, argan, jojoba, almond, kukui, and pumpkin seed oils. Together these leave your beard soft, shiny, and manageable. It also helps keep dandruff and itchiness at bay.
But what makes this product stand out is its ability to help with hair growth. Yes, this beard oil isn't just there to condition your facial hair. It also stimulates new hair growth.
Oh, and the cedarwood and clove scent? Uh-mazing!
Viking Revolution Beard Balm
Even the best beard butter for African American hair can get a tad greasy. So if you want something that isn't too rich, we think you should try the Viking Revolution Beard Balm. The chief ingredient here is argan oil that nourishes your facial hair and still feels light on the skin.
If you're a sucker for scented beard products, you'll love the Viking Revolution beard balms. They come in four distinct fragrances – clary sage, sandalwood, pine, and bay rum.
The nourishing balms also help keep dandruff flakes and itchiness at bay.
Grave Before Shave Beard Butter
The Grave Before Shave product is among the best beard butter for African American facial hair. Reason? Its amazing ingredient list! There's shea butter, mango butter, jojoba oil, argan oil, and essential oils.
We really liked how easily the butter slips through the beard. This is mostly due to the absence of beeswax in the formula. And we also give bonus points for its cologne-like scent. To be specific, the beard butter smells of cigar and vanilla.
A lot of users feel like this product is a bit on the pricey side. But it's smell, texture, and natural ingredients make it totally worth it.
Proraso Pre-Shave Cream
This beard butter is a bit different from the rest. Other products on this list are mostly moisturizers to be applied at the end of the grooming routine. But this product by Proraso is a pre-shave cream.
African American hair can get really difficult to shave even with the right shaving cream and razor. So this beard cream helps soften your facial hair with its emollient-rich formula. The mix of sandalwood and shea butter keeps the beard nourished and soft.
It also helps that the pre-shave cream is free of parabens, sulfates, phthalates, mineral oils, artificial colorings, and scents. The natural sandalwood fragrance is the cherry on top of the cake.
Prophet Beard Butter
If you like your beard products to be multitaskers, then you'd like this Prophet Beard Butter. It not only helps soften and condition your facial hair but also helps maintain a hold for up to 12 hours. So you can use this product like a beard wax or a pomade.
The vitamin E-rich formulation contains shea butter, jojoba oil, argan oil, and sweet almond oil, among other natural ingredients. They help nourish your skin and leave a non-greasy finish.
Apart from smoothening your facial hair and keeping your beard styles in place, this beard butter also helps reduce inflammation and itchiness. It thickens hair, promotes beard growth, and treats split ends too.
Talk about being efficient, huh?
Detroit Grooming Co. Beard Butter
Detroit Grooming Co, is an amazing local brand for beard products. They even name their beard butter according to different Detroit locations including Corktown, Leland, etc. And they've got such a wide variety of flavours including mango-lime, vanilla-tobacco-cedarwood, and so many more.
These beard butter contains sunflower seed oil, almond oil and vitamin E. This is different from usual beard butters that are heavy in shea butter and other rich ingredients. So it's more light weight on your skin.
Polished Gentleman Beard Growth and Thickening Conditioner
This beard conditioner is great for nourishing skin, stimulating beard growth and detangling your facial hair too. It contains several natural ingredients like aloe vera extracts, argan oil, tea tree oil, and peppermint extracts. These ingredients aren't too rich and in fact, control excess sebum on your skin. So this one is a great pick for combination or slightly oily skin types as well.
The conditioner is also helpful in stimulating the hair follicles on your face to grow. We also liked the subtle but masculine aroma.
Common black man beard problems
The texture of African American hair can cause a lot of facial hair problems, including:
Patchy Beards
Itchiness
Coarseness
Shrinkage
Ingrown Hairs
What is the best beard butter for African Americans?
The Shea Moisture Mens Full Beard Detangler is the best beard butter for African Americans. It has a nourishing formulation packed with the goodness of shea butter. The product is free of any harmful ingredients that irritate or dry out the skin. And the price is completely reasonable. So if you'd ask us, we'd select this Shea Moisture product as the clear winner.
How do you soften African American beards?
The best way to soften African American hair is to use beard oil or beard butter to add moisture to the strands. These can be applied after you cleanse your face. Using a specially formulated beard soap or wash is also helpful in softening the beard. It doesn't strip your facial hair of moisture like other sulfate-based soaps and cleansers.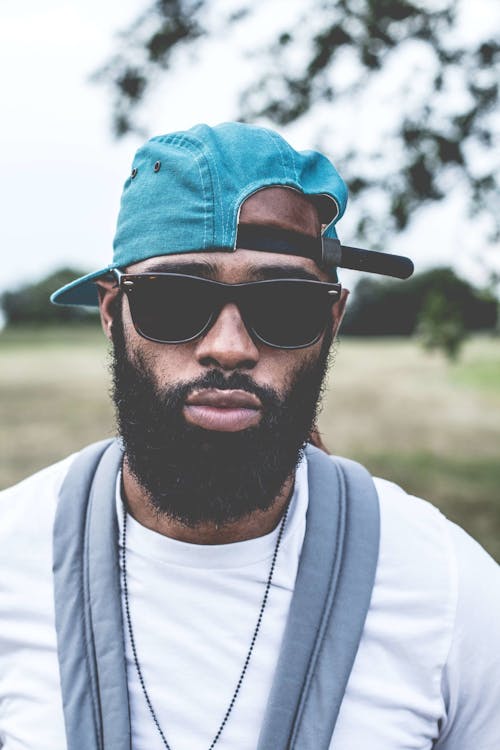 How to grow black beard naturally?
If you want to grow your beard naturally, here are a few tricks that might come in handy.
Cleanse and exfoliate regularly: A clean, healthy environment helps facial hair grow faster. So remember to wash your face every day and exfoliate once a week. Always use a natural, mild soap to clean your beard. Exfoliation also helps remove clogged pores and ingrown hair that can cause acne and red bumps.
Moisturize: This is a super important step for African Americans as curly hair requires more nourishment. Use beard butter and balms to keep your hair hydrated and remove any tangles.
Use a beard growth oil: A beard growth oil contains ingredients like caffeine, peppermint oil, etc., that can stimulate the growth of hair follicles on the face.
Healthy diet: It's not just about what to put on your face. A healthy diet is also important to promote hair growth. Make sure you're getting enough vitamins (especially vitamin E) and antioxidants in your diet. Omega-3 fatty acids are also essential for hair health.
What are the best black-owned beard products brands?
Some of the best black-owned beard products include Scotch Porter, Boyface, Dr. Goat, Brigeo, and Solo Noir. The Solo Noir Skin Conditioner is one of the best beard butter for African American men.
How do you straighten African American beard?
African American men have naturally curly hair textures. And this extends to their beards as well. So even if you have longer facial hair, the shrinkage can make your beards look shorter. So if you want to straighten African American beards, you need to follow the following steps.
Wash your beard with mild soap and water. Harsh sulfate-based soaps can strip your facial hair of moisture. This makes the beard look curlier and rougher.
Use beard oils, beard butter, or balms: These products hydrate your beard, leaving the texture smoother.
Brush it out regularly. Use a natural, boar-bristle brush and run it through your beard every day. This helps distribute the natural oils, leaving your facial hair straighter.
Use a beard relaxer or straightener. Just as there are chemical relaxers for your hair, there are beard straighteners too. Using these products, you can make your curly beard smoother and straighter.
Conclusion
Getting the perfect beard requires time and energy. Simply leaving it out to grow isn't enough. You need the best beard products to keep your facial hair well-groomed. A good beard wash, trimmers, beard balm, beard oils, and of course, the top beard butter for African American guys to keep it soft and manageable. These help in nourishing your beard and promote growth.
Also Read: