Check out these heated rollers for short hair including hot rollers from brands like Carmen and Conair. Also, learn how to use hot rollers on short hair!
Short hair, don't care? Check out these best heated rollers for short hair to try out new, stylish looks every day.
You might think that short hair requires lesser maintenance and is easier to set, but you can't be farther from the truth.
Short hair, unlike long hair, requires better equipment when you want to sport curls or waves. It's always a good idea to invest in good heated rollers specially designed for short hair. Read on for the reviews of the Best Heated Rollers for Short Hair:
I have short hair and what I needed was a heat roller that was gentle on my hair but had a good grip. When I started to look online, there was one clear option.
Which is the best best heated rollers for short hair?
BaByliss heated rollers is the best for short hair which is very popular. It comes with a 20 set roller which enables you to make subtle waves on your hair as well as smoothening your hair while curling it effectively. The device makes sure that the heat is distributed evenly on the hair. The grip you have on the hair is pretty strong.
There's a lady on the train with heated rollers in her hair in an evening dress putting on her make-up. I wish I was that glam on a Saturday morning pic.twitter.com/MEHXBDq45Q

— Jo Clarke (@bookloverJo) December 9, 2017
Top Heated Rollers For Short Hair 2023
How To Select The Best Heated Rollers For Short Hair – A Buying Guide
Before you choose heated rollers for short hair, you'll have to consider the following factors:
Size of the roller
Hair rollers come in different sizes, from small and medium to large. The right size depends on the curls that you want. To get loose waves, choose large rollers. For loose-ended curls, medium rollers work the best and if you are looking for tight and bouncy curls, look for the smaller-sized rollers.
Quantity
The quantity of hair rollers that you may need depends on the length of your hair. A minimum of 8 rollers will be sufficient in case you have short hair. However, you may need a minimum of 12 rollers if you have long hair.
Material
Make sure that you check out the material the rollers are made of because your skin might react to it. The standard rollers are usually made of plastic. If you have short hair, you may want to look for Flocking and Velcro rollers for natural grip. To get shiny hair, look for hot rollers that are coated with ceramic or tourmaline.
Heat Technology
There are three heating Technologies for hot hair rollers:
It takes 5 to 10 minutes for conduction rollers to get heated up.
The second heating method is steam technology that takes about 10 seconds.
The third is Induction technology and it takes only 8 seconds to heat the rollers.
How do you curl short hair with hot rollers?
It's pretty easy to curl short hair with hot rollers. But first things first. You need to select the appropriate size of the heated roller depending on the type of curl pattern you want to create.
If you want tighter, coiler curls smaller heated rollers are a good idea. For bouncy, loose curls use larger-sized heated rollers.
After you've selected the right size of rollers, it's time to section your hair. Using alligator clips, you can create short sections of your tresses.
Take each section and place the heated roller a few inches below your roots.
Next, wrap the rest of the hair strands around the heated roller in an anti-clockwise direction (twist the strands in a direction away from you).
Finish off by securing the section of hair using the 'claw' clips provided with the heated rollers. These keep your strands in place.
All you have to do now is wait. The longer you leave the heated rollers on your locks, the longer the curls will hold.
You can wear a silk bonnet and go to sleep with the rollers in or keep them on until you do your makeup.
A good rule of thumb is to wait until the heated rollers cool off and your hair goes from hot to cold.
What Size Hot Rollers Do I Use For Short Hair
When it comes to using hot rollers for short hair, it's important to choose the right size to achieve the desired results. Generally, smaller hot rollers work best for short hair as they provide tighter curls or added volume, depending on your preference. Here are some recommended hot roller sizes for short hair:
3/4 inch or 1 inch: These sizes are ideal for creating tight curls and adding texture to short hair. They work well for creating a retro-inspired look or adding bounce and body to your hair.
1 ¼ inch: This size is versatile and can be used to create both tight curls and loose waves on short hair. It's great for achieving a more relaxed and natural look.
1 ½ inch: This size is suitable for creating loose waves and soft curls on short hair. It can add movement and dimension to your hairstyle while maintaining a more effortless and casual vibe.
Keep in mind that the size of the hot rollers can also depend on the length and thickness of your short hair. If your hair is very short, you may want to opt for smaller rollers to ensure they can wrap around the hair properly.
Experimenting with different sizes and techniques will help you discover the best hot roller size for your specific hair type and desired style. It's always a good idea to practice and adjust until you achieve the desired results.
What is the difference between steam rollers and hot rollers?
Steam rollers and hot rollers are both heat styling tools used to create curls and waves in the hair, but they differ in how they generate heat and the effects they produce.
Hot Rollers: Hot rollers are heated electrically or with the help of a heating element. They usually come in a set with multiple rollers and a base that heats them up. Hot rollers are made of various materials, such as ceramic, tourmaline, or velvet, which helps distribute heat evenly and protect the hair from excessive heat damage. Once heated, hot rollers are applied to sections of the hair, and the heat helps shape and set the curls. They are typically left in the hair for a certain amount of time to allow the curls to form and set before being removed.
Steam Rollers: Steam rollers, on the other hand, use steam to create curls. These rollers are designed with small vents or holes that allow steam to penetrate the hair shaft. Steam rollers are typically made of foam or sponge-like material that absorbs and retains moisture. To use steam rollers, they are first heated in a special unit or a container filled with water. The steam produced by heating the rollers is what creates the curls in the hair. Similar to hot rollers, steam rollers are applied to sections of the hair and left in place until the curls are formed and set. The steam helps to hydrate the hair, resulting in a softer, more voluminous curl.
Key Differences:
Heat Generation: Hot rollers generate heat using an electric or heating element, while steam rollers use steam to create the necessary heat for curling the hair.
Curl Formation: Hot rollers rely on direct heat to shape and set the curls, while steam rollers utilize the moisture from steam to create curls that are typically softer and more voluminous.
Hair Hydration: Steam rollers provide a level of hydration to the hair due to the steam, which can be beneficial for those with dry or damaged hair. Hot rollers do not provide the same level of hydration.
Curl Result: The curls achieved with hot rollers tend to be tighter and more defined, while steam rollers create looser, more relaxed curls or waves.
Ultimately, the choice between steam rollers and hot rollers depends on personal preference, hair type, and the desired curl outcome. Both can be effective tools for achieving beautiful curls, and experimenting with both options can help determine which works best for your hair.
How I tested these heated rollers for short hair?
After using these heated rollers on my own hair I've rated them on a scale of 1-5 depending on these parameters:
Hair Curling Ablity – I first checked how good the rollers were at curling hair into ringlets.
Safety on Hair – Like with any heat styling tools, rollers too can cause some issues. So I checked if they were safe or got too hot and damaged hair.
Price: Heated rollers are often more expensive than regular rollers so I checked for price as well.
BaBylissPRO Nano Titanium Roller Hairsetter
Best Heated Rollers For Short Hair Overall
BaByliss has been making waves (literally) in the hairstyling industry with innovative products that do the job not only well, but also real quick. So I just had to try these out!
I liked how the BaBylissPRO Nano Titanium Roller Hairsetter comes in counts of 5, 10, 12, 20 and 30 depending on how thick your hair is.
The 20 roller set is my pick as it has just the right number of rollers for my short hair.
There are 8 large rollers with a size of 1¼", 6 medium (with a size of 1") and 6 small, with a size of ¾" each. So I could easily try out different types of curls with the heated rollers.
Curling your hair with heated rollers can damage it if the heat is not well distributed or if it is too harsh.
So I really appreciated that this Nano Titanium Roller set takes care of this by using far-infrared heat which is much gentler on the hair when compared to other rollers. 
It also ensures that the heat is evenly distributed to avoid damaging the strands.
Also my favorite part about these rollers were how they are velvet flocked for better grip.
I also give them points for including the 20 butterfly clips and colour coded metal pins to help style your hair in ease. There is a manufacturer warranty of 2 years on the product.
Pros:
Different sizes of rollers are available so you can do different hairstyles
Quick heat temperature settings so it suits different hair thickness
Cons:
My Ratings:
Hair Curling Ablity – 4.5/5
Safety on Hair – 4.5/5
Price – 4/5
Conair Xtreme Instant Heated Rollers
Best Heated Rollers For Short Hair For Bouncy Waves
Conair does have quite a few heated rollers in its range but my pick for short hair is the Xtreme. I love the compact size of this set that makes it easy to carry along when I travel.
Perfect for thick hair, there are 12 rollers, with 4 super jumbo sized and 8, jumbo sized. Being so big in size, you can get those nice huge bouncy waves or curls when done.
What I loved most about these rollers is that they work on Ceramic technology, so you can be sure that the heat around the rollers is evenly distributed.
Ceramic technology also adds a lot of shine and smoothness to your hair, getting rid of frizz.
All I had to do is heat them up for about 10 minutes and then leave them on for another 10 to 15 minutes and I was good to go.
I also liked that they are covered with a velvety layer so they didn't snag or pull at my hair at all!
They also heat up super quick, so all you need is just a couple of minutes to get them going. The set comes with 12 butterfly clips for convenience.
Pros:
Instant heat up so you won't waste time in the mornings
Creates dynamic and dimensional curls
Butterfly clips help keep fine thin hair in place
Different sizes available so it creates different curl patterns
Cons:
Not very easy to apply
The clips may not hold the large rollers
My Ratings:
Hair Curling Ablity – 4/5
Safety on Hair – 5/5
Price – 4/5
Remington H1016
Best Frizz-Control Heated Rollers For Short Hair
Remington is one of those brands that I can trust will give me professionally styled locks and in a price that fits my pocket.
The H1016 is perfect for short hair with 10 rollers in 2 different sizes, 5 for larger, voluminous curls and 5 for smaller, tighter ones.
Using the latest technology, these rollers use a combination of both ionic as well as ceramic heating to give your hair more smoothness and shine.
I love how they got rid of all the frizz on my hair as it was a effect I was not expecting.
But my favorite part has to be that the rollers are equipped with cool touch ends to keep your fingers safe when you are placing them. Good for clumsy folks like me!
They heat up in less than 2 minutes, and need another 15 minutes to keep your curls in place. The set comes with some J clips for holding the rollers in place, but if you have very thick hair, these may not work very well.
I suggest you buy butterfly clips separately to work with the roller. They come in a pouch that makes it convenient to store or carry with you.
Pros:
The size makes it perfect for short hair
Comes in two different sizes for different curl patterns
Uses a combination of both ionic and ceramic heating that prevents damage and controls frizz
The cool touch ends-technology keep your fingers safe
Heats up quickly in less than 2 minutes
Cons:
Does not work well with thick hair
My Ratings:
Hair Curling Ablity – 4/5
Safety on Hair – 4.5/5
Price – 5/5
Caruso C97953 Heated Rollers For Short Hair
Best Budget Heated Rollers For Short Hair
A good, value for money set of heated rollers for short hair is the Caruso C97953. With 30 heated rollers, you can do your whole head without having to invest in buying more rollers, or doing it in two to three lots.
In my opinion, this is the best set as you get 5 different sized rollers and 6 of each, with the petite starting at 0.5 inches going up to the largest at 1.5 inches.
With this variety it works well on any thickness of hair, even the finest and thinnest, and delivers any kind of curls or waves that you want.
The foam covering these rollers is soft and gentle on the hair.
The heat is produced by the steam.
Fill in some water and let the steam heat up the rollers.
The clips hold the rollers well in place.
The steam is gentle on the hair and does not damage it like many other heated rollers in the market.
Since it is also slowly infused into the hair, the curls stay a lot longer than when heated with regular heated rollers.
Pros:
Value for money
comes with 30 heated rollers
5 different sized rollers available
works on any thickness of hair
helps you achieve different kinds of curls or waves
soft and gentle on the hair
Cons:
curls take longer to dry
clips don't stay in place
John Frieda Body & Shine Smooth Waves
Best Heated Rollers For Short and Thick Hair
For short and thick hair, The Body & Shine Smooth Waves heated rollers by John Frieda is just ideal.
Sold as a set of 5 rollers, sized 2 inches each, these are perfect for quick and easy waves for rushed mornings.
The rollers use ionic conditioning technology which produces upto 50 % more ions than other heated rollers, so your hair is free of all frizz and all you have are smooth and shiny curls.
They also take only about 2 minutes to heat up completely.
The rollers are flocked with titanium ceramic and you also have a set of butterfly clips to hold them in place.
You can also vary the temperature of the rollers between low and high depending on what you prefer.
The heating storage box is small and compact to help you stow it away in your dresser or a suitcase when you are travelling.
Pros:
Works on short and thick hair
great for quick and easy waves
keeps hair free of frizz
gives you smooth and shiny curls
heats up quickly
temperature can be varied
Cons:
HOT Wavers
Best Travel-Friendly Heated Rollers For Short Hair
The set of 12 heated rollers by Hot Wavers come in two different sizes: 6 1-inch curlers and 6 1.5-inch curlers.
The smaller ones work best for very short and thin hair, whereas the larger ones work for hair that is shoulder length.
The heating base is universal, so you can place any roller anywhere without worrying about solving it like a puzzle.
There are also two temperatures you can choose from, a low and a high, and the rollers heat up very quickly.
The rollers have indicators that show you how hot they are.
Apart from curling or making waves, the rollers also manage to add a lot of volume and body to short hair in a jiffy.
They smoothen the hair and keep frizz away, leaving you with a gorgeously perfect hair do. You get 12 butterfly clips in the package to hold these rollers in place.
This set is also very compact as you get an additional zippered travel bag to store them away in your bathroom vanity or to carry in your luggage when you travel.
Pros:
Available in two different sizes
two temperature settings
temperature indicator available on the rollers
adds volume and body to short hair
Smoothens and keeps hair frizz free
compact
Related: Check out these top hair wavers for short hair to get those perfect beach waves!
Conair Instant Heat Compact Hot Rollers
Best Ceramic Heated Rollers For Short Hair
We have another set of heated rollers by Conair, this one the Instant Heat Compact Hot Rollers using Ceramic technology.
These rollers come in a convenient zippered pouch, easy for storage as well as travel, and are colour coded to indicate the two sizes.
The blue ones are 1 inch in size and they are 8 in number while the green ones are ¾ inches in diameter and 4 in number.
These sizes are just right for short hair of all thicknesses, and they come with J clips to hold them in place.
However, the J clips are not of great quality, so you could consider swapping them for better quality butterfly clips.
Pros:
Travel and storage friendly
2 sizes available
great for short hair and different thicknesses
Cons:
J-clips are not of great quality
INFINITIPRO BY CONAIR
Best Negative-Ion Heated Rollers For Short Hair
Go super-advanced with Conair's Infinitipro heated hair roller set. Using ionic technology, this set of 20 hair rollers comes in 3 different sizes.
What's very impressive is that there are 12 adjustable temperature settings.
These rollers are ceramic flocked, assuring you of super smooth hair that looks healthier and is free of frizz.
The ionic technology generates negative ions to keep your hair from flyaways.
They heat up in under two minutes and require only about 15 minutes to leave you with glamorous tight and bouncy curls.
The cord is retractable, making it easy and compact for storage and convenient for travel.
Pros:
Available in three different sizes
Makes hair look smoother and healthy
Keeps hair free of frizz
Heats up really quick
Gives you tight and bouncy curls
Compact
travel friendly
Cons:
No space in the case to store the clips
REMINGTON H9100S Pro Hair Setter
Best Quick Heated Rollers For Short Hair
The Remington H9100S Pro Hair Setter is an advanced set of heated hair rollers with which you can set your hair in just ten minutes.
The rollers use a dual heating system called Thermaluxe, where they are heated inside and outside at a high temperature.
This heats up the curls from within as well as outside, resulting in quicker and longer setting. This advanced heating system also heats up the rollers in just 90 seconds, so that last minute party you have to go, requires no more than about 15 minutes in total to do your hair.
These rollers are ceramic coated, so they are safer for your hair and leave your locks beautiful shinier, smoother and free of frizz. The heating cum storage base is vertically aligned, with a groove to wind the cord, saving you space and making it more compact. The product comes with a 4 year long warranty.
Pros:
Perfect for short hair
prevents creases
Heats up very quickly
LED light indicator available to know that the rollers have heated up
Cons:
Takes time to set the curls
Toni & Guy Salon Professional Extreme Volume Roller Set
Best Salon Heated Rollers For Short Hair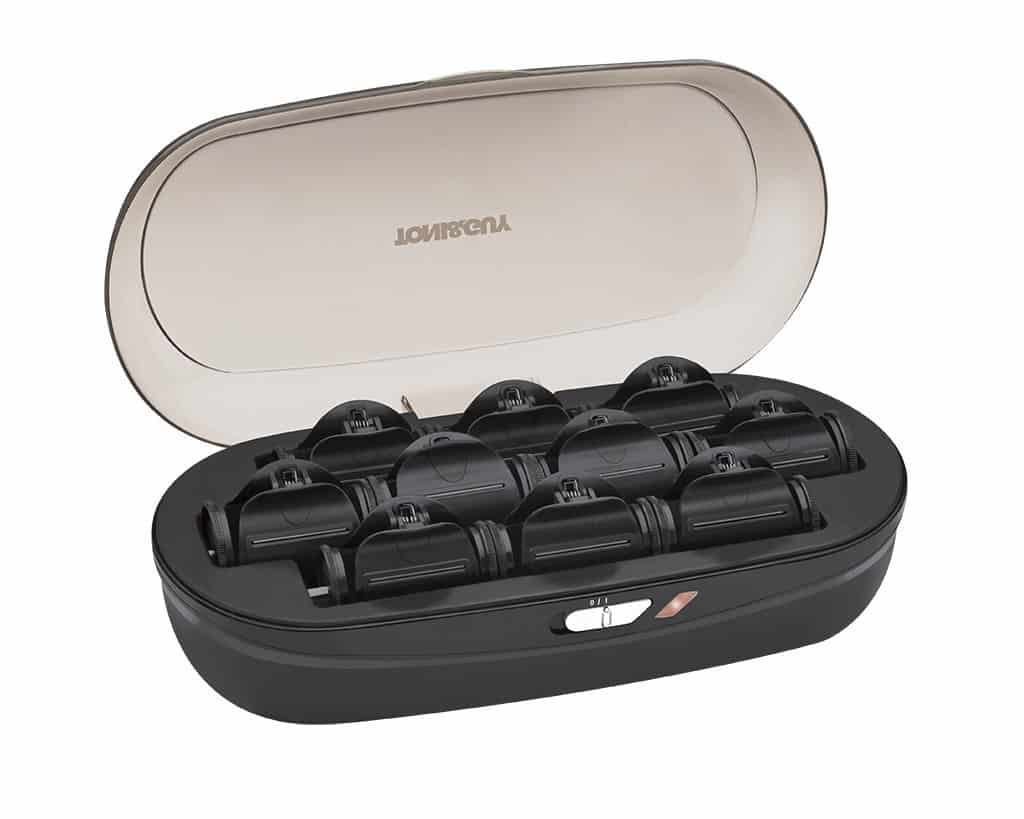 I recently had the pleasure of trying out the Toni & Guy Salon Professional Extreme Volume Roller Set, and I must say that I am absolutely thrilled with the results. This product is a game-changer for anyone looking to add some serious volume and bounce to their hair.
First and foremost, the set comes with a variety of roller sizes, allowing you to customize your look. Whether you want big, voluminous curls or just a bit of added lift, there's a roller size for you. The rollers heat up quickly, and they're easy to use. They also come with handy clips to secure the rollers in place, ensuring that they don't slip or slide while you're styling your hair.
One of the standout features of this roller set is the extreme volume it delivers. After using it, my hair had impressive lift and body that lasted all day. I was amazed at how much volume I could achieve without any damage or excessive teasing. It's a great option for those with fine or limp hair, as it adds that much-needed oomph.
The rollers are gentle on the hair, and I didn't experience any excessive heat damage or frizz. The set also includes a heat protection mat and a storage case for easy and safe storage. The rollers are coated with a ceramic material that helps distribute heat evenly, preventing hot spots and reducing the risk of damaging your hair.
The Toni & Guy Salon Professional Extreme Volume Roller Set is also quite versatile. You can use it to create a variety of hairstyles, from loose waves to tight curls, depending on your preferences. It's suitable for both everyday use and special occasions when you want to look your best.
Overall, I couldn't be happier with the Toni & Guy Salon Professional Extreme Volume Roller Set. It's user-friendly, delivers fantastic results, and is a great investment for anyone who wants to achieve salon-quality volume and bounce at home. I highly recommend this product to anyone looking to elevate their hair game and enjoy voluminous, gorgeous locks.
Pros:
Works perfect for short hair
Preferred by Salon professionals
The rollers get heated from the core
Can be used within 2 minutes
Tending to your short hair while styling your hair is something that needs to be taken seriously. These heat rollers for short hair have a great quality. We hope this list helped you make your pick.
Why You Should Trust Haireveryday?
The author of this article, Leah Marie Priest has a degree in Cosmetology with years of experience in dealing with hair care, scalp care, and hairstyling. As someone who extensively deals with all kinds of hair textures, products, styling methods and more, hair Leah Marie knows what kind of products and procedures suit each hair type and person. We have also tested these hair products and processes ourselves to provide you an unbiased review about every product. Each of our articles are also reviewed by a team of medical professionals so that you get the most accurate and expert-reviewed information.
Also Read:
Best automatic hair curler for short hair
Conair Xtreme Instant Heat Ceramic Hot Rollers
The best heated rollers for short hair helps add waves and curls to your tresses. The Conair Xtreme Instant Heat Ceramic Hot Rollers is suitable for all hair types.
Product SKU: KH42429T9G2
Product Brand: Conair
Product Currency: USD
Product Price: $35.03
Price Valid Until: 2022-10-14
Product In-Stock: InStock