Can I Use Lush Henna On Grey Hair? Well, it's a very effective natural hair dye and covers grey well. Check out the guide below fore more information on dyeing locks with henna.
When I first found out about Lush Henna, I was hopeful that it would be the answer to all my hair color woes. But as someone who has grey hairs scattered throughout my dark locks, I was worried about whether Lush Henna would be effective in covering them.
I scoured the internet for answers, but was left with conflicting information. Some people claimed that Lush Henna worked well on their greys, while others said it didn't work at all.
So, I decided to take matters into my own hands and try it out for myself. In this article, I'll share my personal experience with using Lush Henna on grey hair, as well as provide some tips and tricks for achieving the best results.
Can I Use Lush Henna On Grey Hair
The answer is YES! Lush Henna can be used on grey hair. However, keep in mind that henna can only create a reddish or orange tint, so if you're looking for a drastic change, Lush Henna may not be the best option for you. But if you're looking for a subtle change and a hair treatment all in one, then Lush Henna may be perfect for you.
But let me tell you, using Lush Henna is not for the faint-hearted. It takes patience, time, and a good amount of effort.
You need to apply it carefully and evenly, leaving it to rest for several hours before rinsing it off. But the process is worth it, trust me. Your hair will feel soft, shiny, and healthy.
One thing to note is that using henna regularly can make your grey hair look more orange over time. If that's not what you're looking for, then try spacing out your Lush Henna applications or mixing it with other natural ingredients like indigo or amla powder to tone down the redness.
Overall, Lush Henna is a great all-natural option for dying grey hair. Just be patient and have fun with the process!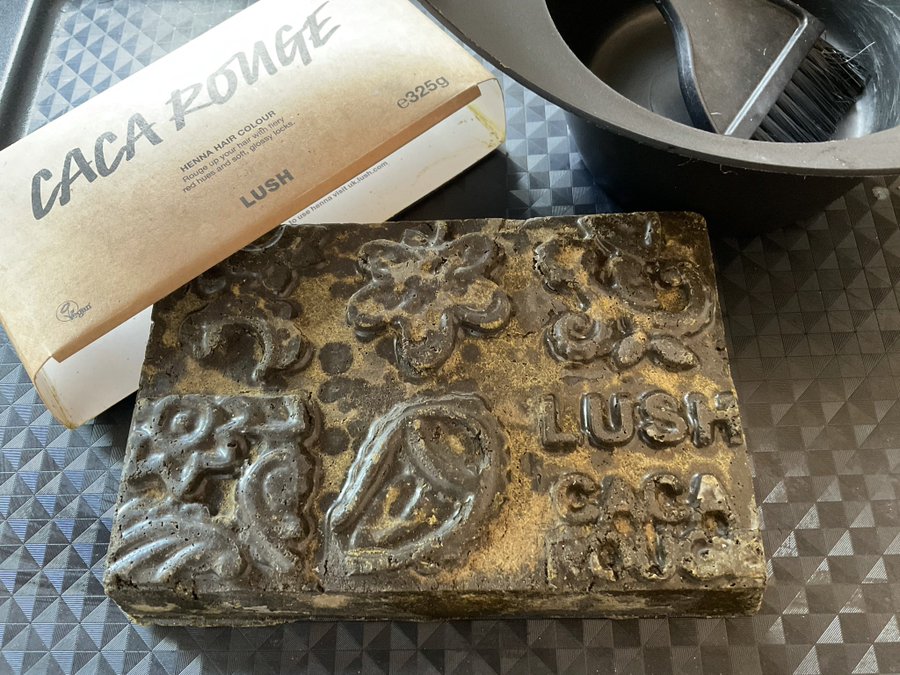 Is Lush Caca Rouge Real Henna
If you're looking for a natural way to color your hair and cover up those greys, you might have heard of Lush Henna. But is it really henna? The answer is yes and no.
Lush has a line of hair dyes called "Caca", which are marketed as henna dyes. However, these dyes are not made from pure henna powder. Instead, they're made from a mix of different plant powders, including indigo, coffee, and cocoa butter, which can provide different shades of color.
The "Caca Rouge" dye, for example, is made from a mix of henna and other plant powders that can create a deep red color.
Now, some hair purists might argue that these dyes are not "real" henna because they're not made from pure henna powder.
However, it's worth noting that henna powder can be difficult to work with and can create a bright orange color that might not be suitable for everyone. The caca dyes, on the other hand, are more forgiving and can create more natural-looking shades.
So, if you're looking for a natural way to color your hair and cover up those greys, Lush Henna might be a good option for you.
Just keep in mind that it's not pure henna, and the results might vary depending on the shade you choose and your hair type.
As with any hair dye, it's always a good idea to do a patch test and follow the instructions carefully to avoid any unwanted results.
Will Lush Henna Cover All My Grey Hair In One Application
So, you've decided to take the plunge and try out Lush Henna for your grey hair. You might be wondering: will it cover all of my grey hair in one application? Well, the short answer is… it depends.
While Lush Henna is great for adding depth and richness to your hair color, it's not a miracle worker. If you have a significant amount of grey hair, it might take a few applications to see the desired results. Don't worry, this is totally normal!
The great thing about Lush Henna is that it's completely customizable. Depending on the intensity of the color you're looking for, you can mix and match different shades of henna to achieve the perfect hue.
This means that if you're not satisfied with the way your hair looks after one application, you can always tweak it to get the results you want.
Lush henna brun applied 😃 pic.twitter.com/urPR0qKiaa

— Style by Julie (@stylebyjulieRG) May 28, 2022
It's also important to note that Lush Henna is a natural dye, which means that it will fade over time. This might mean that you need to reapply the henna every few weeks to maintain the color.
However, this also means that you can experiment with different shades without worrying about long-term commitment.
In conclusion, Lush Henna is a great option if you're looking to cover grey hair naturally. While it might take a bit of trial and error to get the perfect color, the results are worth it. So go ahead and give it a try—you might just fall in love with your new, vibrant hair!
Is Lush Henna Discontinued
I was devastated when I heard rumors that Lush had discontinued their henna hair dyes. As someone who has been using Lush Henna for years, I couldn't imagine having to find a replacement product. So I did some digging, and it turns out that the rumors are not entirely true.
Lush has recently made some changes to their henna hair dye line, and some of the colors have been discontinued. However, they still offer a variety of shades for those who are looking to get their hands on the all-natural hair dye.
The new Lush Henna range consists of Caca Rouge, Caca Marron, and Caca Noir. These colors are made with all-natural ingredients, including henna, cocoa butter, and essential oils. The range is also vegan-friendly, cruelty-free, and plastic-free, which is a plus for those who are environmentally conscious.
As someone with gray hair, I was initially worried about whether the new Lush Henna range would work for me. After doing some research, I found that the henna dye can cover gray hair but may not be as effective as chemical hair dyes.
In conclusion, Lush has not discontinued their henna hair dyes entirely, but they have made some changes to their range. The new Lush Henna range is still a great natural alternative for those who are looking to dye their hair without harsh chemicals.
As for us gray-haired folks, give it a try, but keep in mind that the coverage may not be as full as with a chemical hair dye.
What Are The Side Effects Of Using Lush Henna
When it comes to dyeing your hair, it's essential to check for any potential side effects. While Lush Henna is a natural alternative to chemical hair dye, it's crucial to understand any potential reactions before applying it to your hair.
One potential side effect of using Lush Henna is an allergic reaction. Although rare, some people may experience an allergic reaction to one or more of the ingredients in the henna mixture. 
Symptoms of an allergic reaction may include a rash, itching, swelling, or difficulty breathing. If you experience any of these symptoms after using Lush Henna, seek medical attention immediately.
Another potential side effect of using Lush Henna is a change in hair color. While Lush Henna is renowned for its deep, natural-looking hues, the final color result can vary depending on your hair's natural color and texture. For example, applying Lush Henna to grey hair may result in a brighter, more vibrant color than on other hair colors.
Additionally, henna can be drying to the hair. Therefore it's essential to use a hydrating conditioner or hair mask after using Lush Henna to ensure that your hair remains healthy and moisturized.
Lastly, Lush Henna can be challenging to remove. So if you're unhappy with the final color result or prefer your natural hair color, removing henna can require many steps and may damage your hair. Therefore, It's essential to be confident in your decision before using Lush Henna.
In conclusion, while Lush Henna can be an excellent natural alternative to chemical hair dyes, it's essential to recognize any potential side effects before using it. By educating yourself and seeking professional advice when necessary, you can safely achieve the hair color you desire.
Lush Henna Instructions: How To Use This On Hair
Here is a step-by-step guide on how to use Lush Henna on hair:
1. Choose the right Lush Henna shade for your hair color. If you have grey hair, you might want to go for a darker shade to achieve the desired coloring.
2. Prep your hair by washing it with a clarifying shampoo. Lush Henna is not compatible with any conditioners or hair masks containing silicones, so make sure to avoid them.
3. Mix Lush Henna with hot water until it forms a smooth consistency. Let it sit for a few hours before applying to your hair.
4. Apply the henna mixture to your hair, starting at the roots and working your way towards the tips. Make sure to cover all the grey hair.
5. Once you've covered all your hair, wrap your head with cling film or a shower cap to keep the mixture from drying out.
6. Wait for at least two hours before washing your hair with water only. Avoid using shampoo for the first 24 hours to allow the color to settle in.
Using Lush Henna on grey hair can seem intimidating at first, but with proper guidance, you can achieve beautiful results that will leave your hair looking vibrant and full of life.
Is Lush Caca Noir Henna Good For Covering Grey Hair
Ah, the struggle of grey hair! It's a constant battle to keep those pesky silver strands at bay. But fear not, my fellow silver foxes, for there is a solution – Lush Caca Noir Henna.
Now, let's be clear – henna won't completely cover grey hair, but it will definitely help blend it in and give it a more natural look. And Lush Caca Noir Henna does this job splendidly.
This deep, dark henna is made with a blend of indigo and henna powders, making it perfect for those with naturally dark hair or those who want a bold black hue. The natural ingredients in the henna also provide nourishment and shine to your locks, making them healthier and more radiant.
But wait, there's more! The best part about Lush Caca Noir Henna is that it's completely natural and vegan. You won't find any harsh chemicals or synthetic dyes in it, making it safe for you and the environment.
Of course, like any henna product, it does take some time and effort to apply. But trust me, the end result is worth it. Your grey hair will be beautifully blended in with the rest of your locks, giving you a more youthful and vibrant appearance.
In conclusion, if you are looking for a natural alternative to traditional hair dyes and have grey hair, Lush Henna is definitely something worth considering.
While it may not provide the same level of coverage as chemical dyes, it can still add beautiful hues and shine to your hair while also nourishing it with natural ingredients.
However, it's important to note that proper preparation and application are key to achieving the desired results.
So, if you're ready to embrace the beauty and power of natural hair care, give Lush Henna a try and see the transformation unfold. Your grey hair might just surprise you with its newfound radiance!
Also Read:
How To Mix Henna And Indigo Together For Black Hair
How Long Does Henna Last On Straight Hair
Can I Use Henna For Natural Hair
Should I Use Hot Water Or Cold Water For Mixing Henna
How To Mix Henna For Dry And Damaged Hair