Amy is the epitome of a girl obsessed with hair. She likes to whip her hair back and forth. Apart from that she is a qualified hair dresser with 8+ years of experience in hair dressing. She knows the right product for your hair and will not stop until you find what you are looking for to solve your hair problems!
At home hair dyes have come a long way! The best at home hair dye are easy to apply, most boxes come with all the equipment you might need and don't take up much of your time.
Changing your hair colours along with trying out different hairstyles is the easiest way to change up your style. It's enough to give you a whole new aesthetic and personality.
You don't have to plan in advance, don't have to struggle to get that appointment with the hairstylist in that popular overpriced salon.
And the best part – these cost a fraction of what you would pay in a salon. As long as you take care of your hair pre and post-application, you can sport some really gorgeous colors, in a jiffy.
Best At Home Hair Dye
Best For
Hair Color Shades Available
WELLA Color Charm Hair Dye
Ash Blonde Hair
Silver, Platinum Blonde
Schwarzkopf Keratin color permanent hair color
Brunettes
Mahagony, Red, Brown
L'Oréal Paris Colorista Hair Dye
Blonde
Black, Brown, Blue, Pink
Garnier Olia Hair Dye
Black Hair
Light Blonde
Platinum Blonde
Dark Blonde
Light Brown
Chestnut Brown
Amethyst
Ash Blonde
John Frieda Precision Foam At home hair dye
Non-Drip Hair Dye
Medium Brown
Chestnut Brown
Natural Brown
Dark Brown
Silver
Deep Black Brown
Dark Red Brown
Arctic Fox Ritual At Home Hair Dye
Root Touch Up
Red, Green, Black, Blue, Pink, Yellow, Plum
Punky Spring At home hair dye
Wash In-Wash Out Dye
Midnight Blue
Silver
Green Apple
Flamingo Pink
Ebony
Cherry
Bright Yellow
Revlon Colorsilk At home hair dye
Semi-Permanent Hair Dye
Blonde
Honey
Platinum
Which home hair dye is best?
The Josh Wood Hair Dye is the best brand for at-home hair colouring. It's the go-to brand for many influencers and celebrities. It doesn't contain ammonia and helps keep your hair soft and nourished.
How To Select The Best At Home Hair Dye
To select the home hair dye, we tested them using different methods.
Grey coverage: The first thing that we evaluated these home hair dyes on was their grey coverage. For this, we swatched the shades of brown, blonde, red, and black.
Color Stability: Then, each of these products was checked for color stability. For this, we put them on a four-week trial period during which they underwent a series of tests.
The tests included 20 wash and dry cycles and 10 hours of UV light exposure.
Long Lasting: Then after the test, each of the swatches was checked for final grey coverage as well as shine and fade resistance.
Other Factors: We also tested out these home hair dyes on our hair to check for things like grey coverage, color richness, uniformity, and accuracy. We also tested the hair for shininess, softness, and smoothness.
All of these home hair dyes underwent this series of tests and only after achieving excellent results did we put them here. You can now start trying out new hair colors without worrying about them not working the way you expect them to.
How To Color Your Hair At Home with a Box Dye
If you're looking for an at-home coloring solution, a box dye is an easy and relatively inexpensive way to end up with a professional-looking result. To make sure you're getting the best color for you, it's important to be aware of a few key steps.
First, determine what color you want to use. Check the box dye box to make sure the color matches the one you want. Then, read the instructions on the box thoroughly, so you are able to best understand the application process. Next, make sure you have all the necessary items to apply your dye.
These include a timer, rubber gloves, a bowl and a tint brush to ensure an even application. To start, put on the gloves and mix the color according to the box's instructions. After the color has been mixed, part your hair into small sections and apply the dye along your partings evenly.
Start at the roots and work your way down, section by section. Once you've finished applying, secure the top half of your hair with a clip.
Finally, set the timer for the suggested time listed on the box, or a few minutes less if you're aiming for a lighter result. Once the time is up, rinse with cool water until the water runs clear, as this helps to close the hair cuticles, giving you a more even color and an extra shiny finish.
Box dyes provide an easy solution for quickly and effectively dyeing your hair at home, if you're determined to follow the instructions and use the right products, you can easily achieve a natural, vibrant look in your own bathroom.
Here are some of the best at home hair dyes you can find in the market:
Best At Home Hair Dye 2023
#1- WELLA Color Charm hair
Best At Home Hair Dye Ash Blonde
In my experience, WELLA's Color Charm hair dyes have been arguably one of the best at home dyeing solutions available.
I've tried many different brands, including professional ones, but none have come close to producing the same end-result as WELLA.
The colors are incredibly vibrant and tend to last a lot longer than other brands and their products have the ability to both lighten and darken depending on what you need. It's simple enough to use and they have a variety of colors and tones available to choose from, so it's easy to find something that works perfectly for your look.
One of my favorite things about WELLA's Color Charm range is that it is gentler on the hair than other brands as well. It doesn't feel like it damages the hair at all and leaves it feeling smooth and healthy after the dye job.
The only thing I would say is that the Color Charm kit does not come with all the extra's you need to complete the dye job such as a bowl and applicator for mixing.
But I suppose this isn't something you should expect from a box dye – so it's more of an extra than something you need from the start.
All in all, I think WELLA Color Charm is an excellent choice if you're looking for a superior at-home dyeing experience.
Key Features of the Hair Dye:
The advantage of using a well established brand that has been around for a long time is the choice of shades.
Wella Color Charm is a permanent hair colour that comes in 68 shades to suit any original hair colour. Be it blonde or brunette, you have a wide choice to pick from. It comes in a bottle applicator that is easy to squeeze into your hair.
With your gloved finger tips, spread the colour around to coat all your strands and you are done.
All this takes is just 10 mins. A great choice if you want to cover your greys at home hassle-free, this package is cheap and easily available online.
#2- Schwarzkopf Keratin color permanent hair color
Best Box Hair Dye For Brunettes
My Review of the Schwarzkopf Keratin Color Permanent Hair Color I've always been a fan of Schwarzkopf hair colors, especially the Keratin color option.
It offers a uniquely intensive, long-lasting hair color that won't fade away quickly. It eliminates the need to continually buy small amounts of touch up color, which can add up quickly. Keratin Color Permanent Hair Color comes in a variety of shades and is easy to apply.
It has a thick consistency that makes it easier to apply and less likely to drip onto materials that can stain. It's made with pro-keratin and silk proteins, which help deeply nourish and protect the hair while providing a vibrant color. The price is reasonable, at around $15-20 a box, and the results are beautiful.
The color lasts for weeks, and the hair is left deeply nourished, with a vibrant color. This nourished feeling lasted for days after the initial application, and combing my hair was effortless.
Overall, I highly recommend the Schwarzkopf Keratin Color Permanent Hair Color.
It's easy to use, and it gives my hair a vibrant, long-lasting color, with an added bonus of leaving my hair feeling healthy and nourished. If you're looking for the best at home hair color, I absolutely suggest you give this product a try!
Key Features of the Hair Dye:
A popular choice amongst many salons and professionals across the world, Schwarzkopf has evolved over the years to give you dyes that are rich and also protect your hair.
With its trademark "K-Bond Plex" technology, this permanent hair colour comes infused with keratin to coat your strands as you spread the hair dye.
The pre-colour serum moisturises the hair and conditions it, preparing it for the hair colour.
The post-application K Bond Plex conditioner strengthens and nourishes the hair, reducing the chance of breakage and leaving your hair shiny, glossy and lustrous.
The hair dye gives you 100% coverage for greys and the thick consistency spreads well with ease.
As a bonus, it also smells nice which we miss in a lot of hair dyes.
#3- L'Oréal Paris Colorista at home hair dye
Best At Home Hair Dye Blonde
I recently tried the L'Oréal Paris Colorista at home hair dye and I am truly impressed! With the ability to customize shades from all over the spectrum, I was easily able to pick my perfect pigment and achieve a stunning, vivid color result.
The application process of this hair dye is so incredibly simple and straightforward. You just pop on the included gloves, follow the easy set of instructions, and in no time you'll have your hair dyed to perfection.
The L'Oréal Paris Colorista dye was especially easy to use, ensuring I didn't have to use complicated techniques to get even coverage. The best part is that my hair felt soft and silky after application. As a person who has dealt with damaged hair in the past, this was an unexpected yet welcome surprise.
The longevity of this hair dye was also excellent, lasting weeks without any touch-ups. Additionally, the gradual change of hair pigment made it easy to switch shades without damaging my hair.
Overall, I give the L'Oréal Paris Colorista at home hair dye two thumbs up. Its customizable shades, easy use, and fantastic lasting power ensures that I will happily be using this product for many hair colorings to come.
Key Features of the Hair Dye:
While L'oreal Paris has plenty of hair dye series in its wide range of styling products, the Colorista is something you must take a look at if you are a lighter brunette and love young, vibrant colours.
Ranging from reds to blues and greens, this is what you've been looking for to give yourself that makeover!
This is a semi-permanent colour that washes away little by little with every hair wash, fading slightly to give you a different colour every day.
Over time it changes the tone as well, so you get to sport totally different colours over the period.
Lasting up to 15 shampoos, this dye is easy to apply and is free of harmful ammonia and peroxide.
#4- Garnier Olia Hair Dye
Best At Home Hair Dye For Black Hair
Garnier Olia is a permanent hair dye free of ammonia, perfect if you are showing greys and want to cover them up. Suitable for all natural colours of hair, Olia has 34 shades that you can pick from to match the closest.
This hair dye is infused with oils derived from flowers and they make up about 60% of the ingredients.
These moisturise your hair, lock in the hydration to ensure that your hair does not get dry and brittle, which is usually the common side-effect of colouring your hair.
Olia promises hair that looks 3 times shinier and we have to agree.
Creamy in texture, this hair dye does not drip, making it easy for you to spread with your fingertips or a brush.
Related: Best Japanese hair dye
Related: Best Korean hair dye
Related: How many ounces of hair dye do you need
#5- Schwarzkopf Live Intense Permanent Hair Colour
Best Permanent At Home Hair Dye
Here you go, another permanent hair colour option from the professional brand, Schwarzkopf.
The Live Intense is a series of hair colours that are brilliant and bright. Easily available online, this has some seriously bright reds if that's your preference.
The price is higher than most other hair dyes in the market but it takes time to wash out and stays its true colour for a long time.
Like most Schwarzkopf hair products, this takes care of your hair, makes it softer to the touch and keeps it glossy and shiny without drying it out.
It certainly is worth the money you spend on it.
#6- John Frieda Precision Foam home hair dye
Best Non-Drip At Home Hair Dye
Moving away front the traditional drip colours and the creme based dyes, John Frieda brings up revolutionary foam textured hair colour! We have to admit, it is definitely more fun using this.
The idea behind the foam is that it is easier to penetrate the strands and reach the roots plus other hard to reach areas of the hair to offer more coverage.
It did do the job plus left very little mess afterwards, so that's a thumbs up from us.
As for the texture of the hair, this hair dye left the hair soft and shiny, right from the roots to the tips.
The after colour conditioner smoothened out the hair and made it easier to brush it.
What we also liked is that the box comes with all the equipment you need including gloves, making your life easier.
#7- Arctic Fox Ritual Home Hair Dye
Best Blonde Hair Dye For Dark Roots
Arctic Fox Ritual is a semi-permanent hair colour with some real fun colours for you to experiment with.
The shades are electric and vivid, the application is easy and the ingredients are all vegan and cruelty-free.
The dyes are highly pigmented and will stay on for at least 30-35 washes which is way beyond how long most semi-permanent dyes last, fading away slowly to reveal different shades of the colour you opt for.
They are free of ammonia and peroxide, and condition the hair to make it soft and glossy.
If you want to be creative, you can get a diluter to alter the colours to give you a totally different shade.
#8- Punky Spring at home hair dye
Best Wash In Wash Out Hair Colour For Grey Hair
Punky Spring is a semi-permanent hair dye with super fun colours like bright yellow, cotton candy pink and poppy red.
There are loads of greens and blues to choose from as well. You can tap into your artistic side and experiment mixing a couple of colours to make your own unique shade.
Lasting at least 25 washes, these dyes condition your hair with a keratin complex to strengthen your hair, make it softer and glossier, so you are not left with brittle and dry hair.
It's easy to apply as you don't need a pre-mix or previous prep work. It also smells alright as it does not have ammonia or peroxide.
All you need is about 20 minutes to apply, leave in and rinse it out.
#9- Revlon Colorsilk at home hair dye
Best Semi Permanent At Home Hair Dye
Get silky and glossy hair with the hair dyes from Revlon Colorsilk. Enriched with Keratin, this hair dye gives your hair a protective layer, strengthening the strands and preventing breakage.
The amino acids protect it further and add to the health of your hair. Healthy hair definitely looks better when treated to hair colour and Revlon Colorsilk is evidence of it.
Free of ammonia, this hair dye is safe to be used and smells quite nice as well.
There is a conditioner that comes with the package to be applied after you have rinsed out the colour.
This is a fantastic dye for maximum coverage of greys and comes in plenty of shades to suit your natural hair colour.
#10- Phyto at home hair dye
Best At Home Hair Dye for Dry, Damaged Hair
Finding a brand that caters to all shades of hair, right from blondes, red heads to brunettes is quite difficult. Phyto has managed to cover all of these with an extensive shade list, so there is something for everybody.
Heavily moisturising with a triple oil combination, the Phyto permanent hair dye will not dry your hair like most in the market do.
The blend of avocado oil, olive oil and shea not only moisturise your hair, but also infuse it with healthy vitamins and fatty acids to strengthen it, soften it and keep it youthful and vibrant.
#11- Josh Wood Hair Dye
Best Professional Hair Color Brand
The Josh Wood Hair Dye is a choice of many celebrities, is currently making waves thanks to its at-home hair dye kit.
This creme based permanent colour is enriched Miracle Shot, a treatment booster that moisturise the hair and keep it hydrated.
It improves the elasticity of the hair to keep it from breaking. Keratin strengthens the hair and restores its health.
The 12 available colours are rich, give you maximum coverage for greys and the texture is easy to apply and spread.
#12- Knight & Wilson Pureplex
Best Home Hair Dye for Grey Coverage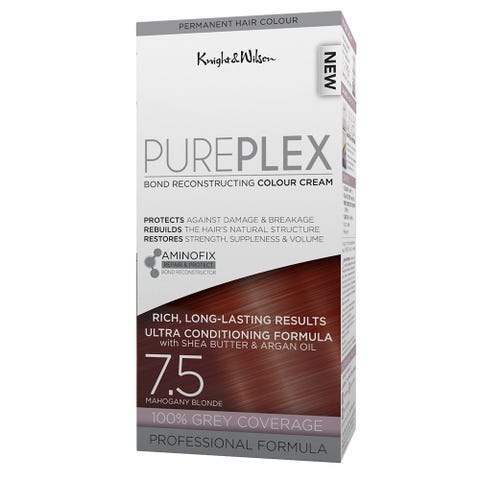 Knight & Wilson hair dye is a value for money package.
You can use each package for up to 3 times. You even get 3 pairs of gloves in the package indicating that.
This hair dye comes with an applicator that is perfect if you are showing some greys and want to touch up only those.
The can it comes in and the brush makes it mess-free, quick and super easy to use. All it takes is about 10 minutes from start to finish.
This hair dye is available in 13 shades to suit most colours of hair.
#13 – Madison Reed Radiant Hair Color Kit
Madison Reed Radiant Hair Color Kit is known to be free of the six controversial ingredients that are often found in hair color.
These ingredients include ammonia, resorcinol, parabens, phthalates, gluten, and, PPD. This is a certified cruelty-free hair dye that has been specially formulated in collaboration with animal protection groups.
The hair color kit is available in about 55 Shades on the brand's website. The color is highly pigmented and it will give that rich color to your hair in just 35 minutes. It does not make your hair feel brittle and dry.
It contains excellent ingredients such as keratin, organoid, and ginseng root extract to help add that softness to your hair strands during the coloring process.
The consistency is quite thick and creamy and so there will be no drips on the floor or your countertop when you are applying it. The whole application process is very easy right from the beginning to the end.
#14 – Rita Hazan Root Concealer Touch-Up Spray
The Rita Hazan Root Concealer Touch-Up Spray is completely waterproof and transfer-proof. This makes it easily the best in the application process. You can easily apply it exactly where you need it the most, thanks to its super-focused nozzle.
The spray is centered and it helps conceal your gray roots. It also adds volume to your hair and helps to squeeze in some amount of time in between your coloring sessions. You can help cover up your gray roots in just a few seconds.
The color lasts out until you shampoo your hair. The dyes are custom blended and you can build them to make it work on any hair color.
To use the spray, shake the can well and hold it about 6 to 12 inches away from your roots. Spray it in a light and steady stream. The spray is available in 5 universal shades and comes in travel-friendly cans.
The formula offers full coverage. It also does not alter your hair texture or hair color permanently. The hair color spray does not contain harmful ingredients like alcohol, ammonia, or peroxide. It does not affect hair treatment such as straightening.
Are home hair dyes as good as salon?
If you are looking at precision, we suggest you go to the salon to get your hair dyed. But if you want to save some bucks and get it done at home then you can go ahead with home dyes.
Another pro of going to the salon to get your hair dyed is that you can get suggestions on texture.
With these simple and good quality home dyes so that you can use it easily.
Also read:
Revlon Color Effects
The best at home hair dye will help you color your hair at home without much fuss. The Revlon Color Effects hair dye is suitable for all hair types.
Product SKU: KLB4K2BK2B
Product Currency: USD
Product Price: $9.48
Price Valid Until: 2022-08-14
Product In-Stock: InStock