Check out the best split ends treatments and best leave in conditioner for dry ends. Also check out how to get rid of split ends overnight.
Split ends can be annoying. When the hair shaft starts fraying from the bottom, it can lead to splits. But the best leave-in conditioners for split ends are here to fix your locks!
For some, it looks pretty discrete but some people have a lot of difficulties hiding their split ends since most of the cases occur at the end of your strands.
A large amount of split ends on your hair may be an indicator of underlying issues. It can sometimes be signs of unhealthy and damaged hair and scalp.
So a little bit of maintenance from your side, using the best leave-in conditioners for split ends, can make a difference.
What is the best leave-in conditioner for split ends?
After looking at several products in the market and checking their ingredients, formulas, price, etc, we've decided that the Carol's Daughter Almond Milk Leave-In Conditioner is the best leave-in conditioner for split ends.
Carol's Daughter Almond Milk Leave-In Conditioner for split ends comes with nourishing ingredients like aloe vera, shea oil, almond oil, and almond milk. These help add moisture to dull, dry, and over-processed hair. It also contains proteins and minerals that seal split ends, remove tangles, and leave your hair soft and manageable.
Top Split Ends Treatments 2023
How to Choose the Best Split Ends Treatments
When it comes to choosing a split ends treatment for your hair, there are several important factors to consider. By taking these factors into account, you can ensure that you select a product that effectively addresses split ends and promotes healthier-looking hair. Here are five key factors to consider while buying a split ends treatment:
Ingredients: Pay close attention to the ingredients list of the split ends treatment. Look for nourishing ingredients such as oils (e.g., argan oil, coconut oil, or jojoba oil), proteins (e.g., keratin), vitamins (e.g., vitamin E), and other beneficial compounds that help repair and strengthen damaged hair. Avoid products that contain harsh chemicals or ingredients that may further damage your hair.
Treatment Form: Consider the form of the split ends treatment that suits your preference and hair care routine. Some treatments come in the form of serums, leave-in conditioners, creams, or masks. Each form has its own application method and may provide varying levels of moisture, repair, and protection. Choose a form that aligns with your hair care routine and is easy for you to use regularly.
Repairing Properties: Look for a split ends treatment that specifically targets and repairs split ends. The product should help to seal and mend the damaged hair shaft, preventing further splitting and breakage. Consider treatments that claim to provide long-lasting repair and protection against future damage, as these can be beneficial in maintaining healthier hair over time.
Hair Type Compatibility: Consider your hair type and texture when choosing a split ends treatment. Different treatments may work better for specific hair types. For example, if you have fine or thin hair, you may prefer lightweight formulas that won't weigh your hair down. On the other hand, if you have thick or coarse hair, you may require more intensive treatments to effectively nourish and repair your hair.
What Causes Split Ends?
Heat Styling- Heat styling undoubtedly causes long-term damage to your hair and one of the most evident damages includes split ends.
Using heated styling tools such as flat irons, hairdryers, curling tongs, etc makes your hair dry and dehydrated. This makes your hair more vulnerable to split ends.
Poor Nutrition- No matter how much you pamper and maintain your hair, the most important aspect of having healthy hair is to make sure that you are supplying your body with enough nutrients.
Vitamin and Iron deficiencies can play a huge role in deteriorating the quality of your hair and scalp and can make you more prone to damages like split ends.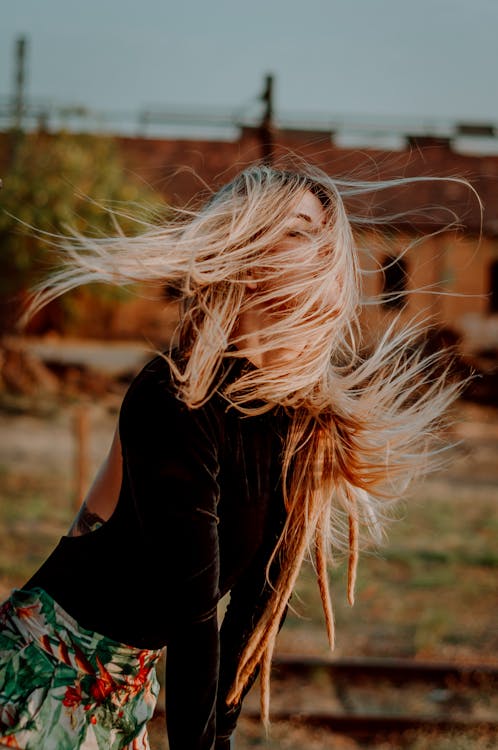 Climate and Weather– The weather can really impact the quality of our hair. Environmental stressors such as sun damage, humidity, wind, etc can lead to dehydration which can make your hair weak and vulnerable.
Hair Products- Hair products can make or break your hair. It is important to understand your hair type and then choose the right products.
It is also important to make sure that you are not using any products which include harmful ingredients that might damage your hair in the long term.
Artificial fragrances, alcohol, and other drying agents can really deteriorate the health of your hair and scalp.
Chemicals Treatments– Although chemical treatments help in trying out a lot of different hairstyles that require relatively low maintenance, it has its own issues.
It is no secret that chemical treatments like perming, rebonding, bleaching, hair coloring, etc can weaken your strands and make them more susceptible to damage.
Everyday Habits– We might be unknowingly damaging our hair with our hair care habits such as taking a shower in hot water, combing untangled hair, sleeping with your hair tied, etc.
These practices, which are most likely a part of our daily routine, can cause long-term damages to your hair.
Genetics- Unfortunately, you can have split ends simply because it's a part of your genetics.
How I tested the best split ends treatments and rated them?
I used these treatments on my own hair for several weeks at a time and noted down its pros and cons. I also rated them on a scale of 1-5 depending on certain parameters that I've mentioned below:
Split End Repair: No superficial treatment can repair damaged ends, but these treatments instead "seal" them together making hair look smoother and preventing further progression of damage and that's what I'm looking for here.
Natural Ingredients/Formula: I also preferred treatments that relied on natural ingredients like shea butter or plant protein instead of having dimethicone or other silicone-based ingredients.
Moisturization Power: Moisture is key to preventing further split ends so I checked how well the treatment can hydrate hair and lock in moisture too.
Sun Bum Revitalizing 3-in-1 Hair Repair Spray
Best Leave in Conditioner for Damaged Hair
The Sun Bum 3-in-1 repair split end treatment is the first one I tried.
I was intrigued by this one as the main ingredients in this leave-in conditioner are Hemp milk and Hemp seed oil. Hemp oil is renowned for its ability to promote hair growth and make your scalp healthy.
Also, hemp milk provides intense nourishment to your hair as it is rich in Omega-3 and Omega-6, Iron, Calcium, Vitamin B12, etc.
And I could easily see the power of these ingredients as the treatment started to work around 2 weeks of use.
It also immediately nourished my hair, controlling frizziness. So that was a bonus for me.
I also liked how the leave-in conditioner protects your hair from the harmful UVA and UVB rays of the sun. So if you've got color-treated hair it can protect dye from fading.
Also sun damage is a leading cause of hair breakage and split-ends so that's a win-win.
Another interesting thing about this treatment is that it's a spray and not a cream.
You can spray it directly into your hair or spray it on your palms and run your fingers through the hair.
So it's very lightweight and spreads through hair easily even if they are very thick and dense.
This is also cruelty-free and vegan product that doesn't contain gluten, sulfates, dyes, and parabens. So it's great for animal lovers and people prone to sensitivities.
Pros:
Lightweight spray formula that is easy to apply and doesn't weight hair down
UVA and UVB filters that protect hair color from fading
Formula doesn't just repair split ends but also hydrates hair preventing further damage
Cons:
None that I could notice
My Ratings:
Split End Repair: 4/5
Natural Ingredients/Formula: 4/5
Moisturization Power: 4/5
Tresemme Split Remedy Leave-in Conditioning Treatment
Best Leave in Conditioner for Dry Hair
Tresemme is a brand that is well known for its professional-grade products and this leave-in conditioner is no exception.
I often damage my hair by using chemicals during coloring, bleaching, heat styling, perming, etc.
So I was happy to use this product as it helps to combat the negative effects of such practices by protecting hair.
I liked that this leave-in conditoner has a lightweight formula and I noticed that it made my hair smoother, stronger, and shinier in a week or two of using.
Another plus point I noticed was that you can style your hair in any way after applying this leave-in conditioner. It has a mild hold and functions as a hair setting product too!
The one downside I noticed to this product is the inclusion of amodimethicone which is a form of silicone. While this ingredient instantly makes hair smoother, it can cause build-up in the long run.
Also there is added artificial perfume in the treatment so if you have sensitive scalp this might be cause slight inflammation. So I suggest use it only at your ends.
Pros:
Silicone-based formula instantly removes frizz and smoothens hair
Formula helps protect hair from damage from heat styling tools
The mild hold it gives help set hairstyles in place
Cons:
Contains added perfume that can be irritating for certain scalp types
Contains silicones that can weigh hair down by causing buildup in the long run
My Ratings:
Split End Repair: 5/5
Natural Ingredients/Formula: 3.5/5
Moisturization Power: 3/5
Bed Head Tigi Ego Boost Leave-In Conditioner
Best Leave in Conditioner for Straight Hair
I tested this product as this leave-in conditioner helps in intensely moisturizing dry hair. So it was like a holy grail for me!
The product is created using a Conditioning complex that helps in making your hair soft and easier to comb through. And I loved how instantly it helped detangle my hair
Split ends are often caused due to harsh brushing and detangling. So this treatment also prevents further damage.
When I used it, I noticed it almost forms a protective film around your strands. It also contains hydrolyzed keratin that helps in improving the texture of the hair.
If you are looking for a product that will protect your hair from environmental stressors like the harmful UV rays of the sun, wind, etc, this is a great option.
Another thing I liked about this leave-in conditioner is that it maintains the pH of your hair. So it's great if you have a sensitive scalp.
Also shout out to the packaging! It comes in a pump dispenser that makes sure that there is no wastage.
Bonus points for fragrance as well as the product smells amazing and leaves your hair smelling like berries. But on the downside this means having to contend with added perfume.
Also the conditioner has a serum-like watery consistency which itself is not bad, but it felt really sticky when applied and took time to dry.
Pros:
Helps protect hair against environmental damage as it forms a protective film on hair
Helps detangle hair easily as the formula has a high slip
Leaves a very pleasant berry scent on hair
Cons:
Thin watery consistency that feels sticky on hair
Added perfume that can irritate sensitive skin if applied on scalp
My Ratings:
Split End Repair: 3.5/5
Natural Ingredients/Formula: 3.5/5
Moisturization Power: 4/5
It's A 10 Miracle Leave-In Conditioner
Best Leave in Conditioner for Wavy Hair
This amazing leave-in conditioner guarantees to give 10 benefits to your hair. If your hair has been through keratin straightening treatments, it helps in maintaining the quality of your hair.
It also makes your hair more manageable and makes it easy to try out different styles on your hair. This leave-in conditioner works well on all types of hair and helps in maintaining the protein levels of your hair.
It is an excellent split-end remedy and protects the level of keratin in your hair. If you are someone who uses heated tools to style your hair and have been noticing your scalp getting dryer, this leave-in conditioner could improve the quality of your hair.
This conditioner further helps in detangling your hair and reducing frizz while keeping it shiny. It also keeps your scalp healthy by sealing in your hair cuticles.
The main ingredient of this leave-in conditioner is Keratin which is one of the most important proteins that helps in keeping your hair healthy. It protects your hair from environmental stressors, mainly the harmful UVA and UVB rays of the sun.
Redken Extreme Anti-snap Leave-In Conditioner
Best Products for Split Ends
This leave-in conditioner is best recommended for extremely damaged and dull hair that has been through chemical treatments, hair coloring, and other environmental stressors.
This five-in-one leave-in conditioner makes sure that your hair is protected from chemical damage, mechanical damage, thermal damage, surface damage, and breakage.
There is a unique protein complex formula in the extreme anti-snap leave-in conditioner. It guarantees 75% less breakage when used in conjunction with the anti-snap shampoo and conditioner.
Although it is suitable for all types of hair, it is best recommended for damaged hair.
The key ingredient in this leave-in conditioner is extra fortifying proteins which help in maintaining healthy hair.
They play a key role in strengthening the hair and reducing split ends and breakage and reducing the appearance of hair damage.
Beyond The Zone Split Mender
Best Leave in Conditioner for Damaged Hair
This leave-in conditioner helps sin minimizing the appearance of your split ends while fixing brittle hair. It is a sulfate and gluten-free product that does not leave a greasy residue or build-up on your scalp. Instead, it helps in making your hair soft and smooth while eliminating frizz.
If you want to camouflage the appearance of your split-ends, it is recommended to apply this to the tips of your hair either on wet or dry hair.
Got locks and knots on your hair? You can use this leave-in conditioner to make your hair silky smooth, and healthy. This product can also be used as a protector for your strands.
Carol's Daughter Almond Milk Leave-In Conditioner
Best Leave in Conditioner for Curly Hair
This leave-in conditioner is just the thing for African-American hair. In fact, the company was even founded by a black woman. So this product understands the needs for coarse, curly hair.
It comes packed with nourishing ingredients such as shea oil, almond milk, and aloe vera to add nourishment to dry, damaged hair. There are several minerals and vitamins that help fortify damaged strands, reducing split ends.
The leave-in conditioner is also free from petrolatum, parabens, and mineral oils!
Your hair might be thick at some points while it might be thin at some. This happens because of a defect in your shaft and it leads to breakage and split ends
And those were the best leave-in conditioners for split ends! If you've got damaged strands thanks to constant styling, coloring, and other issues, these conditioners can help leave your hair softer, smoother, and healthier. 
Why You Should Trust Haireveryday?
The author of this article, Leah Marie Priest has a degree in Cosmetology with years of experience in dealing with hair care, scalp care, and hairstyling. As someone who extensively deals with all kinds of hair textures, products, styling methods and more, hair Leah Marie knows what kind of products and procedures suit each hair type and person. We have also tested these hair products and processes ourselves to provide you an unbiased review about every product. Each of our articles are also reviewed by a team of medical professionals so that you get the most accurate and expert-reviewed information.
Also Read:
Best Leave-In Moisturizers For Swimmers
Best Leave-In Conditioners For Bleached Hair
Best Leave In Conditioner For Dry Hair
Carol's Daughter Almond Milk Leave In Conditioner
The best hair treatments for split ends repair damage and leave your hair healthy. The Carol's Daughter Almond Milk Leave In Conditioner helps add moisture to dry hair and controls split ends.
Product SKU: N71G7H17FUVJ4
Product Brand: Carol's Daughter
Product Currency: USD
Product Price: $10.97
Price Valid Until: 2024-09-07
Product In-Stock: InStock