Is the Ryo Hair Loss Care shampoo any good? Does it actually control hair fall? What other Ryo shampoos can you try? I've explained it all in my article below!
Okay, so if you haven't heard of Korean skincare products then you must be living under a rock. But did you know that Korean hair care is also a booming industry?
Yup! The traditional recipes and cutting edge technology that Koreans use to create their fantastic skincare line is also used in their shampoos and hair serums.
And one such Korean shampoo that is making waves these days is the Ryo Hair Care shampoo.
It is created by the Korean skincare company Amorepacific and has attained cult status among some of its users.
I was intrigued by this shampoo because my tresses were looking quite damaged recently due to a lot of hair styling especially using heat and dyes. So it was also falling out quite a bit.
Also, I wanted to check for myself if there is any truth to the rave reviews that this Ryo shampoo was getting, so I decided to check it out myself.
Rootgen, a hair loss shampoo tailored for women launched by hair loss care brand Ryo! it gently cares for sensitive scalps and contains hair root strengthening ingredients for women. Meet the Rootgen launch event at Olive Young and Olive Young official online malls nationwide pic.twitter.com/wzqpAHO9he

— Asa (@enramiasa) April 27, 2023
Ryo Shampoo Review 2023
I used the Ryo Hair Loss Care Shampoo for almost a month. The best thing about the Ryo shampoo is that it has different variants for dry scalp, sensitive scalp and oily scalp.
Since I have a lot of oiliness and buildup thanks to styling in addition to the damage, I tried out the Ryo Hair Care Shampoo For Oily Hair. Here's what I found.
Ryo Hair Loss Care Shampoo: At A Glance
Is It Sulfate Free – No (contains Sodium Laureth Sulfate)
Top Ingredients – Red Pine Extract, Panax Ginseng Extract, Silica, Tocopherol
Who It's Suitable For – People with hair fall and oily scalp, scalp acne and inflammation
Fragrance – Added Perfume Source
Is It Colored Hair-Friendly – No
Is It Good For Sensitive Scalp – Might Be
Price Range – $$ (Affordable)
Ryo Shampoo Ingredients Explained
Japanese Red Pine Extract
The Japanese Red Pine has long been used in traditional Asian medicine as a stress reliever and hair growth tonic.
This ingredient contains several antioxidants including vitamin A that help promote blood circulation to the scalp and increase the hair follicle's chances of getting into the new growth cycle.
It also has antimicrobial, antifungal and anti-inflammatory properties which makes it ideal for use on inflamed scalps, scalps with acne, dandruff, fungal infections, etc.
Panax Ginseng (Korean Red Ginseng)
Korean red ginseng is an excellent DHT blocker that reduces hair loss and shedding. There are several studies that show that this traditional Korean herb is effective at treating androgenetic alopecia or male pattern baldness and is also good at promoting hair growth.
Tocopherol
Tocopherol is a part of the vitamin E family. It is a form of antioxidant which is very helpful in reducing inflammation. It also prevents hair loss by breakage by adding strength to your tresses as it is a building block of keratin, the hair protein.
Vitamin E is also helpful in softening hair as it adds moisture to the tresses. It helps control frizz and smoothens flyaways too.
Silica
Silica is very effective at absorbing grease and oil from the scalp. But its main strength lies in the fact that it is a form of a DHT blocker that reduces the effects of the hormone dihydrotestosterone that causes hair loss. So this ingredient can help with hair shedding.
What I Liked About The Ryo Shampoo
Let's start with the elephant in the room eh! Does the Ryo shampoo actually help with hair loss? And the answer is yes! Using this shampoo did increase the length and thickness of my hair significantly and reduced strand breakage.
And surprisingly it did not just reduce breakage by detangling my hair, it also promoted new hair growth.
When I researched this, I found out that sometimes the oil and debris accumulated on your scalp prevents hair follicles from getting adequate nutrition and stops any serum/oil/hair loss treatment from reaching it as well.
So this shampoo helps clear away this debris and allows better nourishment of the hair follicle root, boosting new hair growth.
The Ryo Hair Loss Shampoo comes in three different variants with different formulas for sensitive scalps, dry scalps and oily scalps.
And this was my biggest draw to this shampoo as I have both damaged hair and oily scalp and could never find a shampoo that controlled breakage and reduced greasiness.
What I loved about the Ryo shampoo is the incorporation of traditional Korean ingredients into the formula. So you have stuff like Panax ginseng or Korean red ginseng that has such fantastic antioxidant properties that help reduce hair breakage and promote growth.
I also liked that it contained silica which helps absorb oil particles from your scalp. So when I first used the shampoo it instantly removed grease and dirt and added such volume to my tresses.
One of the chief ingredients here is tocopherol which is a form of vitamin E. This is very important for the formation of hair keratin and to maintain the elasticity of hair cuticles.
I found that the regular use of this shampoo made my hair feel so much softer and smoother too.
Yes, it has SLES and ammonium lauryl sulfate. But the latter is a very innocuous surfactant. And SLES actually works on my hair just fine.
I have thick hair with an oily scalp and so it can help clarify my hair better without any lasting damage. But if you have color-treated hair or very fine hair or dry scalps I can see why this ingredient might be problematic for you.
What I Disliked About The Ryo Shampoo
The first thing that I instantly disliked about this Ryo shampoo is that it contains SLES. Yes, it is milder than SLS, but it can still remove hair dye pigments from tresses.
So if you have colored hair this might not be the best for you.
There is ammonium lauryl sulfate in here as well, which is milder and gentler than both SLS and SLES but it combined with SLES it can make this shampoo a tad too clarifying.
I also did not like the addition of artificial perfumes in this shampoo. Don't get me wrong this shampoo smells absolutely amazing!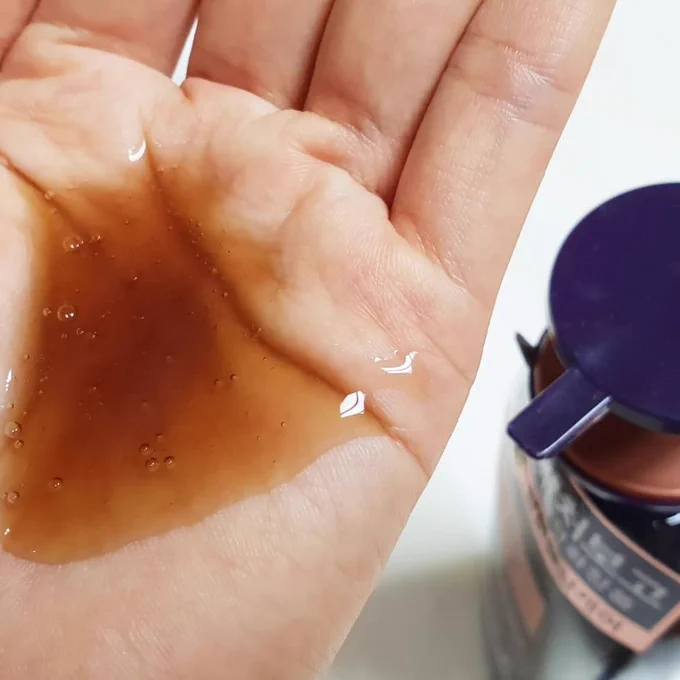 But unfortunately perfumes can dry out scalps in the long run and it can also irritate more sensitive scalps, so it's not the best product for people with conditions like eczema, psoriasis, etc.
There is also alcohol in the shampoo that is added to make the formula lighter and more easy to penetrate your strands. However, it is very drying if used regularly.
So this shampoo might work if you have very oily hair otherwise it can actually dry out hair.
I used it for just one month and it didn't dry my hair out a lot. However, I do feel it can strip moisture from more dry hair textures.
Related: Best Korean Shampoos
Which Ryo Shampoo Should I Use?
Ryo is a popular Korean haircare brand known for its natural ingredients and effective shampoos. Choosing the right Ryo shampoo depends on your hair type, scalp condition, and specific haircare needs. Here's a breakdown of some of their popular shampoos and their suitability for different hair textures and scalp types:
Ryo Jayang Yunmo Anti-Hair Loss Shampoo:
Suitable for: Oily scalp, thinning hair, and hair loss concerns.
Key Features: Contains ginseng, which is known to strengthen hair and stimulate hair growth. It also helps control excess sebum production on the scalp.
Ryo ChungAhMo Shampoo for Oily Scalp:
Suitable for: Oily scalp and fine, limp hair.
Key Features: Formulated with natural herbal ingredients to control excess oil production, balance the scalp, and add volume to the hair.
Ryo Damage Care Shampoo:
Suitable for: Damaged, dry, or chemically treated hair.
Key Features: Contains natural ingredients like camellia oil and ginseng to repair and nourish damaged hair, leaving it soft and manageable.
Ryo Hair Loss Care Shampoo for Sensitive Scalp:
Suitable for: Sensitive scalp prone to irritation and hair loss.
Key Features: Designed to soothe and nourish the scalp while promoting healthier hair growth. It's gentle and free from harsh chemicals.
Ryo Agave Anti-Hair Loss Shampoo
Suitable for: Dry scalp and hair loss concerns.
Key Features: Enriched with agave extract to provide moisture to dry hair and scalp, while also addressing hair loss issues.
Ryo Damage Care Shampoo for Dry Hair:
Suitable for: Dry and damaged hair.
Key Features: Formulated to hydrate and repair dry, brittle hair. It contains natural ingredients like camellia oil and ginseng to restore moisture and vitality.
Ryo Scalp Deep Cleansing Shampoo:
Suitable for: All hair types, especially those dealing with product buildup and dandruff.
Key Features: Provides a deep cleanse to remove excess oil, dirt, and product residue from the scalp, leaving it refreshed and revitalized.
When choosing a Ryo shampoo, it's essential to consider your specific hair and scalp needs. Pay attention to the ingredients and targeted benefits to select the one that aligns with your goals. Additionally, remember that haircare routines may need adjustments based on the changing needs of your hair and scalp, so don't hesitate to switch to a different Ryo shampoo if necessary.
What is the best Ryo Shampoo For Colored Hair?
For colored hair that requires a sulfate-free and gentle formula to maintain vibrancy and prevent premature fading, you can consider the Ryo Damage Care Shampoo. This particular Ryo shampoo is formulated with natural ingredients such as camellia oil and ginseng to repair and nourish damaged hair. It provides moisture to dry hair without harsh sulfates or surfactants that can strip away color.
The Ryo Damage Care Shampoo not only helps restore moisture and shine but also strengthens and revitalizes your hair. By keeping your hair in optimal condition, it can indirectly contribute to preserving your hair color for a longer duration.
Please note that product formulations can change over time, so it's a good practice to check the product label for the most up-to-date information on ingredients and suitability for colored hair. Additionally, consider using a sulfate-free conditioner and a color-protecting treatment to further enhance the longevity of your hair color.
FAQs about the Ryo Hair Loss Care Shampoo
Is Ryo shampoo sulfate free?
No, unfortunately not. The Ryo shampoo I tried out was made for oily care so it contained sodium laureth sulfate (SLES). Now SLES is still problematic when it comes to color-treated hair as it can strip hair dye molecules from strands. 
However it is comparatively milder compared to sodium lauryl sulfate or SLS which can strip moisture along with natural oils from the scalp. 
So while this shampoo might not suit color-treated hair, it is still usable on sensitive scalp. However I do suggest trying out Ryo Hair Loss Care shampoo in Dry Scalp and Sensitive Scalp varieties because these are much milder.
Is the Ryo Deep Cleansing shampoo better than the Ryo Hair Loss shampoo?
The Ryo Deep Cleansing Shampoo and Ryo Hair Loss Shampoo are equally effective however they are for completely different purposes. The Deep Cleaning shampoo as the name suggests is a highly clarifying shampoo for removing buildup, grease, dirt and flakes from hair and scalp. The Hair Loss care shampoo helps strengthen hair and reduces breakage and hair fall. These two shampoos are similarly priced too. 
Summary on the Ryo Hair Loss Shampoo Review 
Ryo Hair Loss Care is a natural shampoo that contains botanical extracts, oligosaccharides, and vitamins to help restore and strengthen hair. It is made in Korea using the latest technologies for manufacturing and has been clinically tested for quality control.
Some of the key ingredients present in Ryo Hair Loss Care are Korean ginseng root extract, tangerine peel extract, licorice root extract, spirulina platensis algae powder (a source of protein), corn silk amino acid enriched water soluble complex (soothes scalp), stigmasterol (antioxidant).
Together these ingredients work together to improve overall hair growth by promoting cell renewal while helping eliminate dandruff and psoriasis symptoms.
While it isn't designed specifically for hair loss relief or regrowth, many people who have tried this product report positive results – including improved thickness and density of hair as well as reversal or prevention of baldness.
Therefore if you're looking for an all-natural option that may help with your concerns related to thinning hair or balding head syndrome then Ryo Hair Loss Care might be a good choice for you!
Why You Should Trust Haireveryday?
The author of this article, Leah Marie Priest has a degree in Cosmetology with years of experience in dealing with hair care, scalp care, and hairstyling. As someone who extensively deals with all kinds of hair textures, products, styling methods and more, hair Leah Marie knows what kind of products and procedures suit each hair type and person. We have also tested these hair products and processes ourselves to provide you an unbiased review about every product. Each of our articles are also reviewed by a team of medical professionals so that you get the most accurate and expert-reviewed information.
Also Read:
AVEDA Rosemary Mint Purifying Shampoo Review
Aussie Miracle Moist Shampoo Review
Kristin ESS The One Signature Shampoo Review
RYO Hair Loss Care Shampoo For Oily Scalp
The RYO Hair Loss Care Shampoo For Oily Scalp helps reduce hair loss and control oiliness on your scalp.
Product SKU: JIFH7181BBH4
Product Brand: RYO
Product Currency: USD
Product Price: $22.79
Price Valid Until: 2025-02-01
Product In-Stock: InStock
Pros
Shampoo decreases oily scalp
Cleans dandruff in one wash only
Lovely natural scent
Cons
Shampoo contains sulfates
Shampoo will not suit colored hair