How do you get longer, thicker hair? Do you need to spend hundreds of dollars on fancy products?
Or is the secret something as simple as eating the best fruits for hair growth and thickness.
The right diet is often simple, but a very underrated way to get healthier tresses.
What you eat is what you are! Now that's a pretty well-known saying. But it's absolutely true.
Having the right nutrients in your diet can not only lead to better health, but it also gives you better hair and skin.
Yes, we agree. Using the right products like shampoos and conditioners are important if you want healthy hair. But nothing beats a healthy diet.
And fruits are not only yummy but also come packed with several antioxidants, vitamins, minerals, and proteins like keratin that are essential for hair growth, strength, and overall beauty.
In fact, even the best hair styling products in the market have now taken the natural route.
Now, you'll find several herbs, fruits, and vegetables in the ingredients list of popular shampoos, creams, and pomades.
So what are the best fruits for hair growth and thickness? Read on to find out!
Top Fruits for Hair Growth and Thickness 2023
| | | |
| --- | --- | --- |
| Fruits | Benefits For Hair | Nutrient Value |
| Guava | Dandruff and itching | Vitamin C, Calcium, Vitamin B6, Potassium |
| Blueberries | Hair growth | Vitamin C, Iron, Vitamin B6, Magnesium, Fiber, Phytoflavinoids |
| Avocado | Repairing damage and strengthening | Vitamin C, Iron, Calcium, Vitamin B6, Magnesium, Fiber, Potassium |
| Banana | Adds shine and softness | Calcium, Vitamin B6, Potassium, Copper, Manganese |
| Papaya | Hair conditioning | Carbohydrate, Vitamin B9, Vitamin B6, Potassium, Protein, Vitamin A |
| Oranges | Preventing hair damage | Vitamin C, Calcium, Vitamin A, Fiber, Carbohydrates |
| Peach | Softer hair | Vitamin C, Niacin, Calcium, Vitamin B6, Manganese, Fiber, Potassium |
| Kiwis | Blood circulation on scalp | Vitamin C, Iron, Calcium, Magnesium |
Guava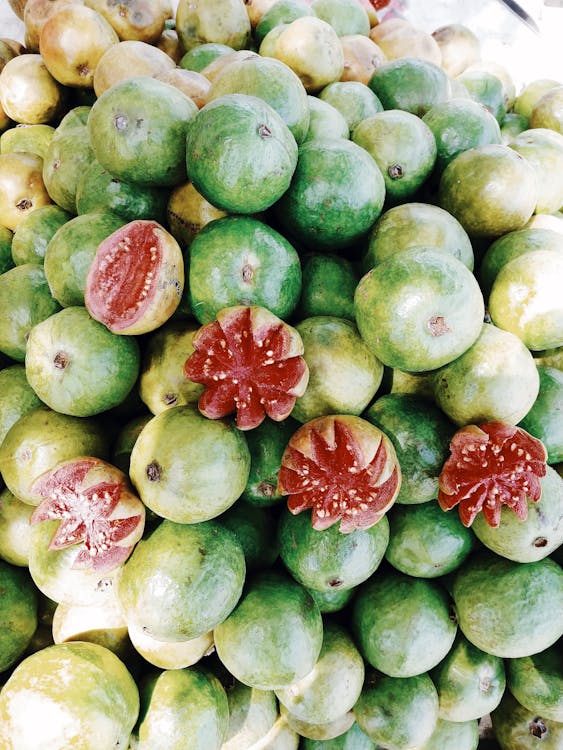 Guavas are tropical fruits that are found in plenty in the Indian subcontinent. These fruits are packed with vitamins and minerals, especially vitamin C.
Guavas protect your tresses from breaking and damage. They are also known to have antifungal properties.
So if you have scalp issues like dandruff, dryness and itching, you should try adding more guavas to your diet. 
How to use:
Take one ripe guava and mash it in a bowl
Add one teaspoon of honey to the mix
Add a few drops of lemon juice
Apply to the hair and scalp and leave it on for 15 minutes
Rinse off
Blueberries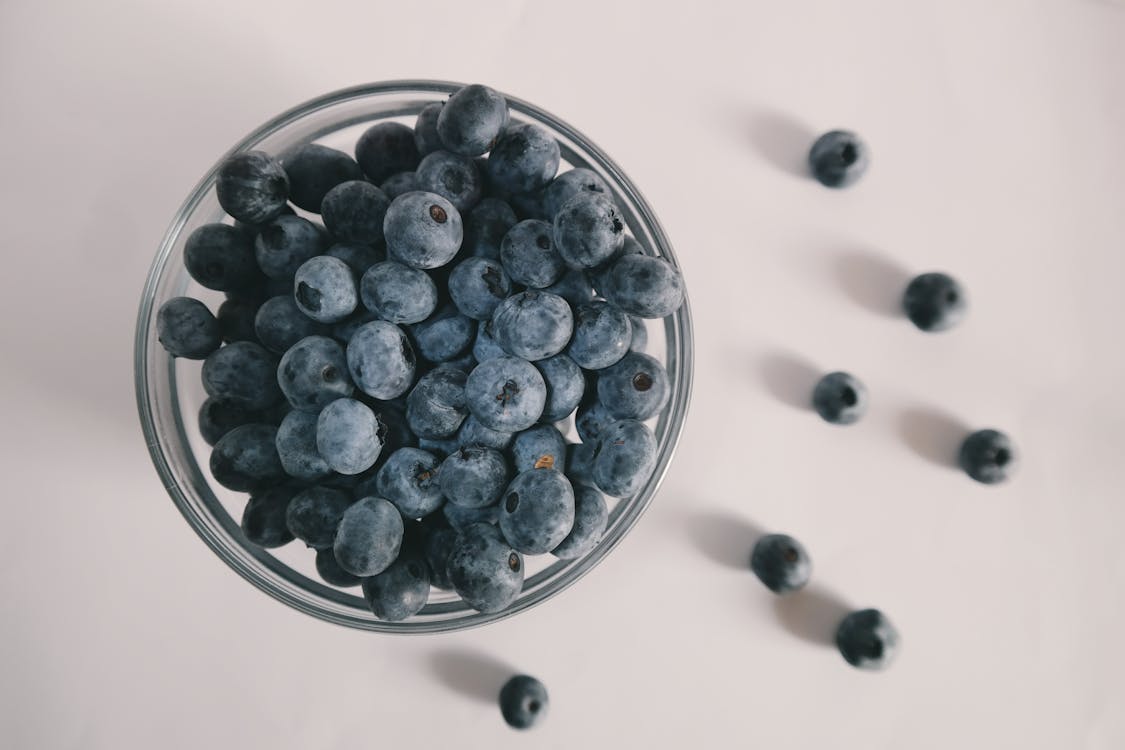 Blueberries are among the best fruits for hair growth and thickness as they are rich in antioxidants called proanthocyanidins.
These along with ample amounts of vitamin C found in these fruits helps stimulate new hair growth and protect your existing mane from damage. 
The best part about blueberries? They are super low on calories.
So if you're on a diet or need to watch your sugar intake, you can eat them without a second thought.
How to use:
Add blueberries to your diet to increase antioxidant intake.
Avocado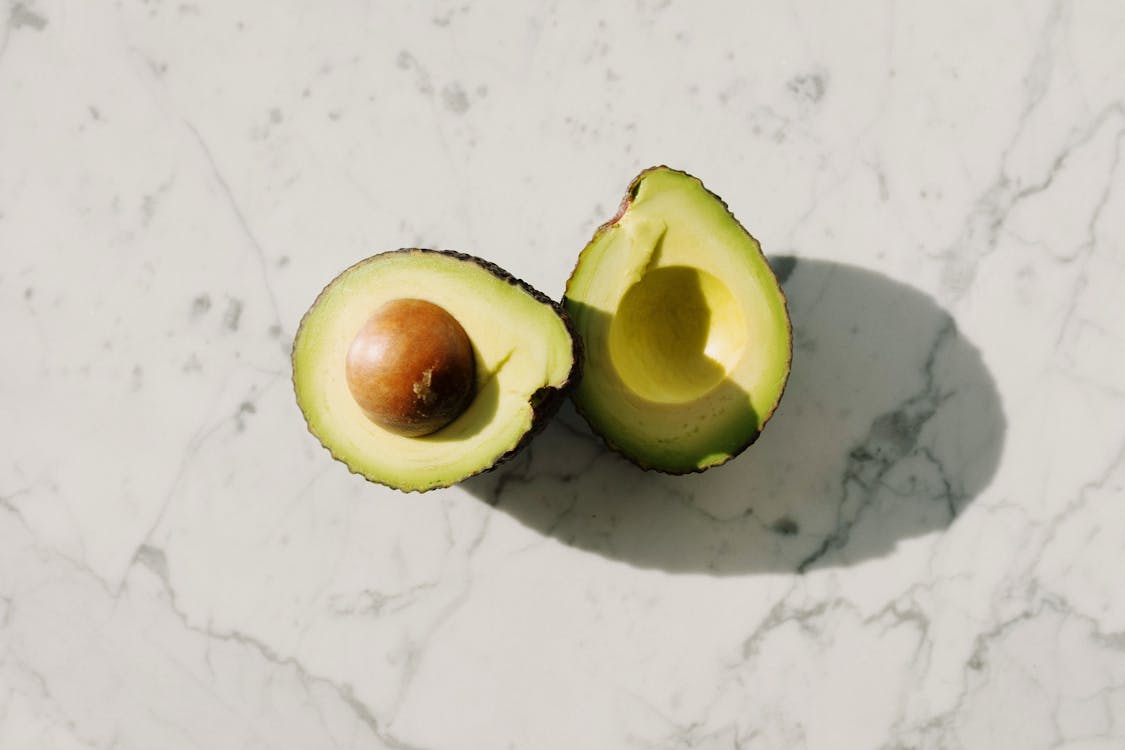 Much has been written about the goodness of avocados, so is it even a surprise that they are on this list.
This millennial superfood is packed with more than 20 essential hair growth nutrients including iron, biotin, vitamin C, among others.
And according to the California Avocado Commission, all of these are packed inside a medium-sized avocado that has only about 80 calories! Amazing right?
A lot of hair masks, creams, and conditioners are now being formulated with avocado extracts.
Hey, you can even mash one up and apply it to your tresses and have a little home hair spa session of your own.
How to use:
Mash a ripe avocado to a pulp in a bowl
Add a mashed banana to the mix
You can even add a few drops of essential oil like lavender or rosemary
Apply this hair mask onto hair and leave it on for 15 minutes before rinsing.
This protein-rich hair mask helps strengthen hair
Banana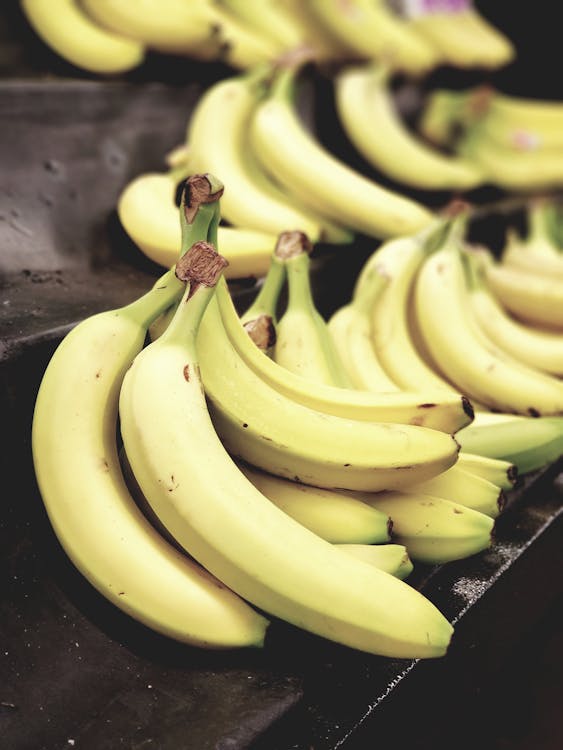 Bananas are excellent for hair growth and thickness. And this is scientifically proven too. These fruits come with the potential to stimulate the hair follicles on your scalp to grow.
They are rich in carbohydrates, vitamins (including biotin), and minerals such as potassium.
This nutritious fruit can help repair hair damage like split ends and leave your tresses soft and plump. Plus, it tastes amazing in a smoothie!
How to use:
Take one ripe banana in a bowl and mash it to a pulpy consistency
Add one tablespoon of honey
Add one tablespoon of coconut oil (you can use olive oil or jojoba oil instead too)
Mix all the ingredients together and apply the paste on hair
Make sure you cover every section of hair and scalp
Leave this hair mask on for 45 mintues to one hour
Rinse hair with lukewarm water.
You can shampoo and condition afterward as usual
Papaya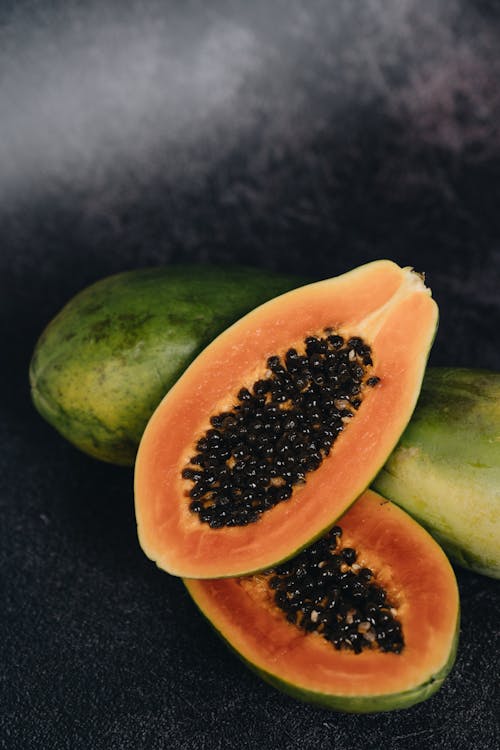 If you want smooth, silky hair, papayas are a must in your diet. These fruits are rich in vitamin A and help condition your tresses.
Many brand-name hair care products contain papaya as one of the chief ingredients.
Papayas are also known for their antifungal properties. So if you have dandruff, this fruit makes a great hair mask.
Oranges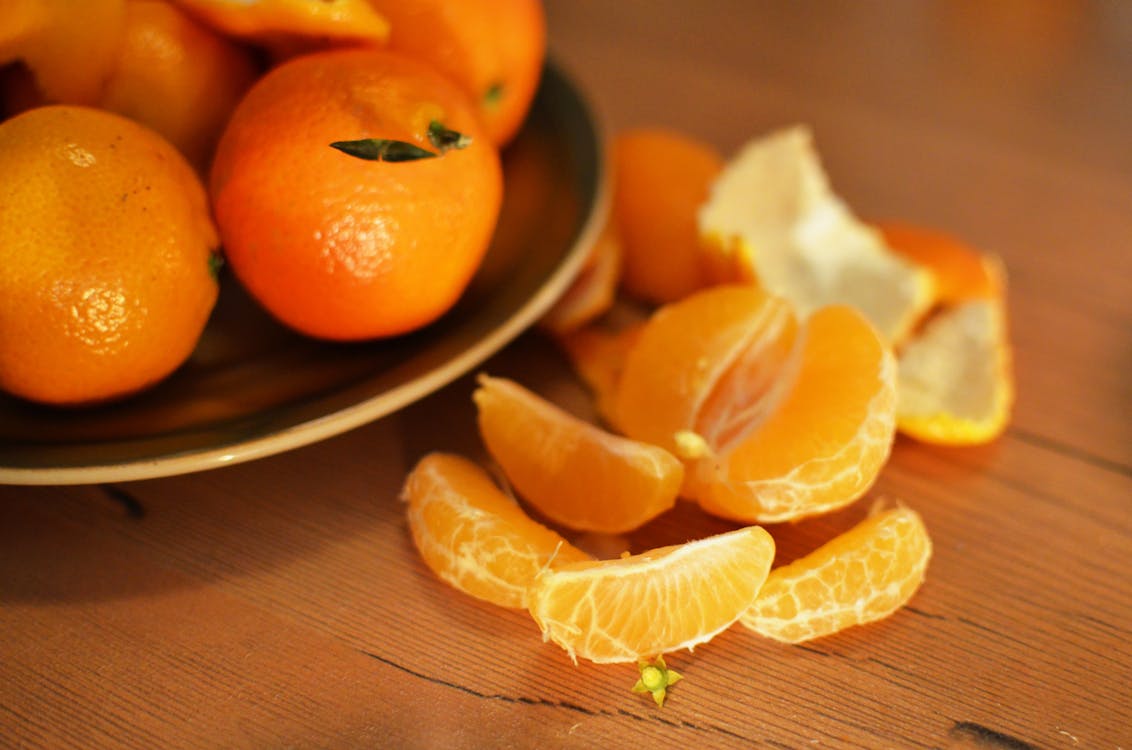 It's no secret that citrus fruits like oranges, limes, and even lemons are chock full of vitamin C.
This particular vitamin is a powerful antioxidant that prevents premature greying of hair, fights free radicals, and boosts hair growth.
Citrus fruits are also known to have antifungal and antibacterial properties.
In fact, if you're deficient in vitamin C, you might be prone to hair loss. This deficiency also leads to abnormalities in hair growth like corkscrew hair.
Vitamin C, found in oranges, is also essential for the production of collagen that adds elasticity to your hair and skin.
Peach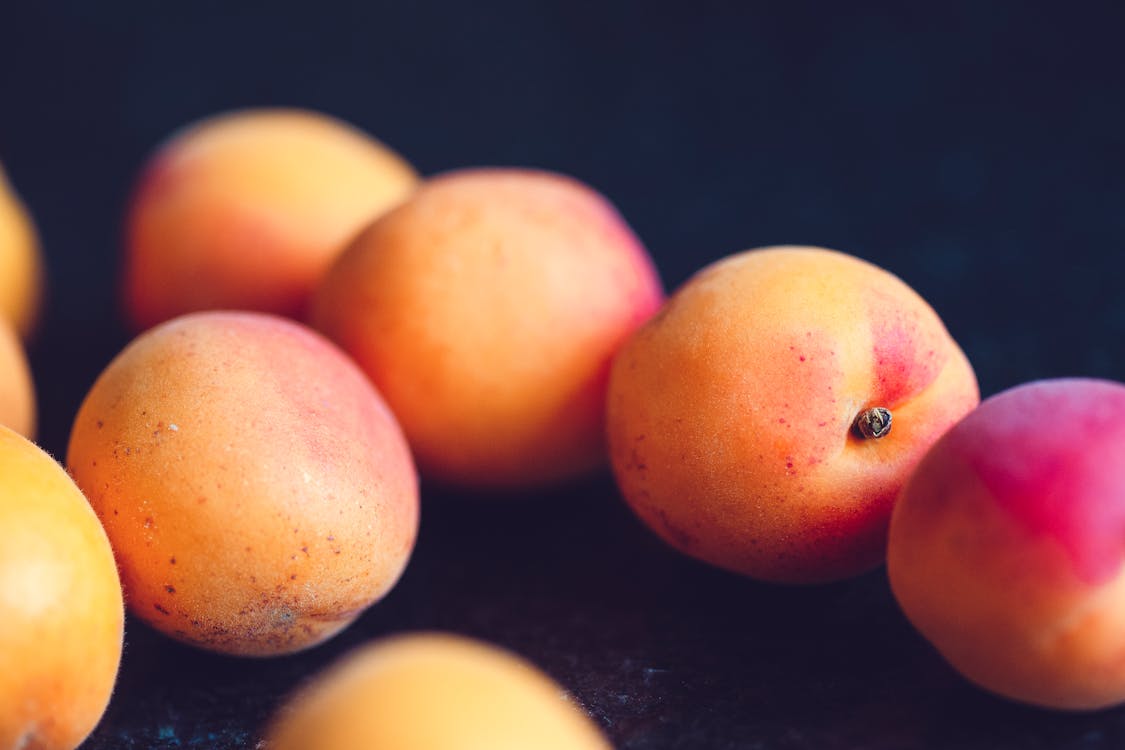 Peaches are one of the other top fruits for hair growth and thickness.
They come with a powerhouse of vitamins and minerals like vitamin C, potassium, vitamin A, and so many more.
They also are a rich source of fiber. So they're for your gut and your hair.
You can add peaches to your salad, toss them into your smoothies, or simply have them as a snack when craving something sweet.
Kiwis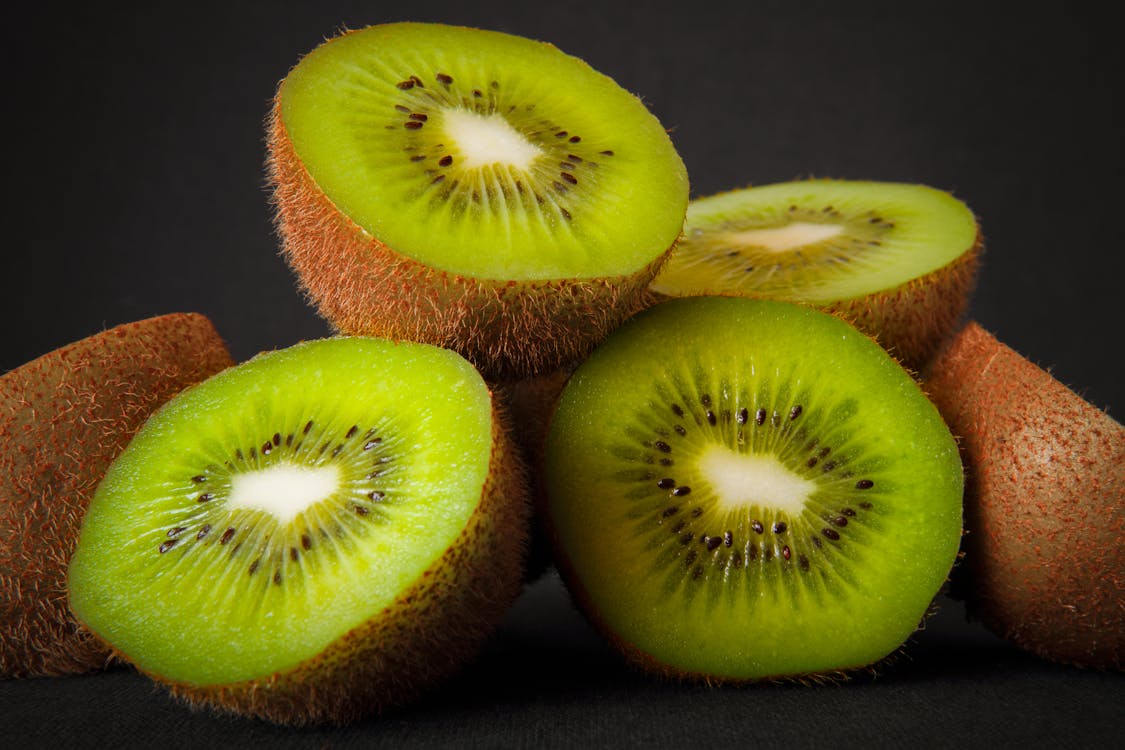 Kiwis are not only the yummiest fruits out there, but they are some of the healthiest fruits for hair growth and thickness too.
They are full of potassium, folates, and vitamins, including vitamin C, K, and E.
These are powerful antioxidants that help in fighting premature aging. So if you're starting to see those grey strands appear, add more kiwis to your diet.
These fruits also boost the blood circulation on your scalp and prevent dandruff.
Apple
You've probably heard of the old proverb "an apple a day keeps the doctor away". Guess what? An apple a day keeps hair troubles at bay too!
Apples are rich in calcium, niacin, vitamin A, vitamin b-6, and loads of iron. These are not just great for your body but they also make great hair packs and conditioners.
In fact, apple cider vinegar, an apple based product helps condition hair, remove product build-up, and balance pH on the scalp.
Gooseberries
Gooseberries are native to a lot of tropical countries. In fact, ancient Indians used them in Ayurvedic medicine and as hair treatments.
There are still people who swear by gooseberries or amla, as it's locally called, for improving hair health.
Gooseberries are a fantastic source of vitamin c with 1 cup giving you 46% of the Daily Value (DV) of vitamin C required.
They help strengthen hair follicles, reduce grey hair, and add lustre and shine to your hair.
There are several medicinal oils that use gooseberries in their formula.
Related: Is Vicks Vaporub Good For Hair Growth
Related: How To Use Apple Cider Vinegar For Hair Loss
Strawberries
Strawberries are rich in vitamin C, manganese, magnesium, copper, and several other minerals.
They help improve the iron absorption in your body. So including them in your diet helps prevent hair loss and boosts new hair growth.
The acidic nature of strawberries also comes in handy for reducing fungal infections and excess oiliness in hair.
What are some top vegetables for hair growth?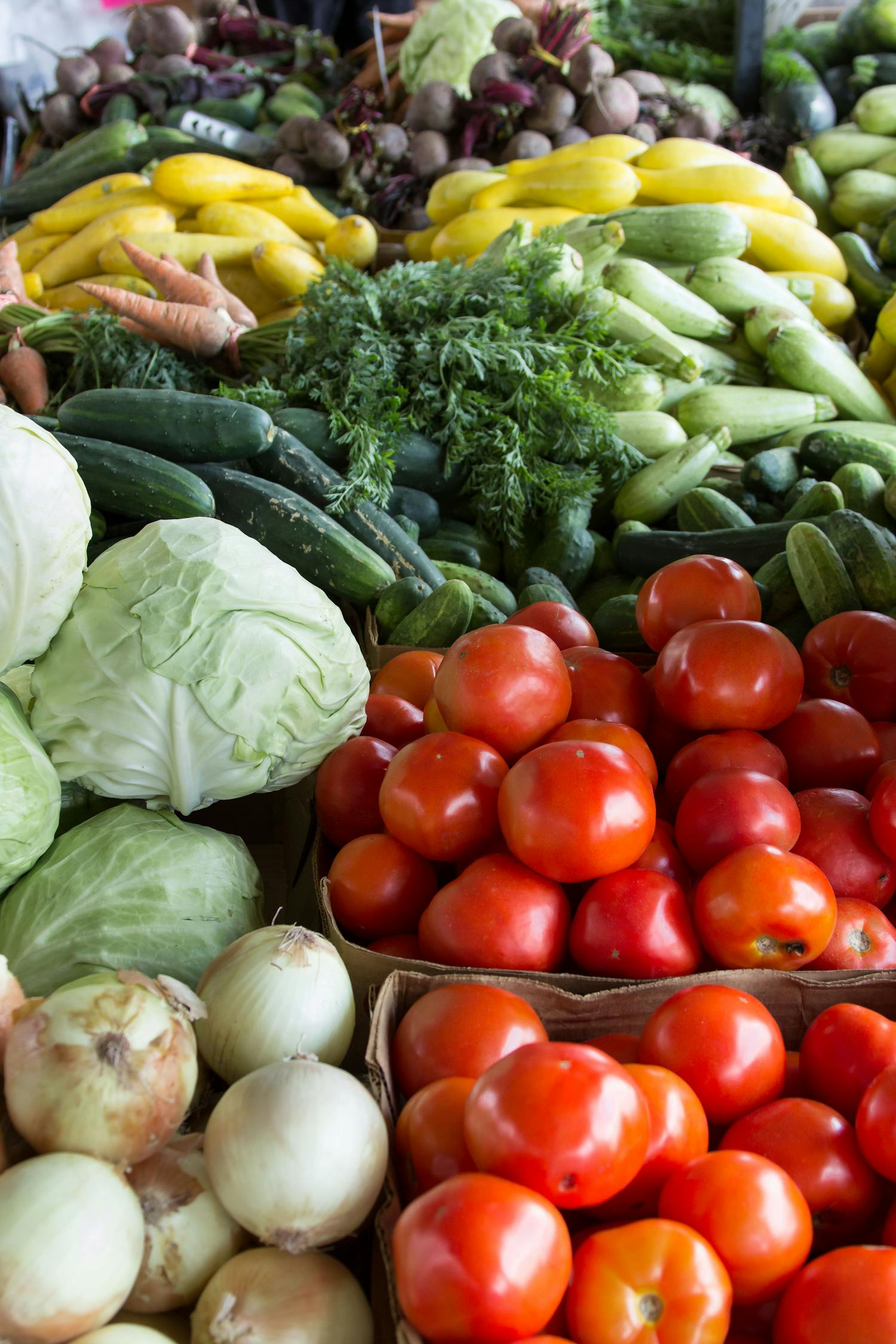 While the top fruits for hair growth and thickness are listed above, several vegetables are also great for hair health. Some of these include:
Sweet potatoes
Sweet peppers
Spinach
Beans
Soybeans
Carrots
Onions
Tomatoes
Curry leafs
Legumes
Beets
Garlic
Top Food For Hair Growth And Thickness
Apart from fruits and vegetables, you need other elements like meat, dairy, and carbohydrates to complete your balanced diet chart.
So if you want long, thick hair, don't forget to add the following food to your breakfast, lunch, and dinner plans.
Eggs
Seafood (including shrimp, salmon, codfish, tuna, oysters, and more)
Nuts (including almonds, pistachios, walnuts, macadamia nuts, fox nuts, and more)
Seeds (especially pumpkin, chia, and flax seeds)
Dairy products (especially some varieties of cheese like feta and gouda)
Lean meat like chicken breast and turkey
It's vital to include these healthy food items in your day to day diet.
But in certain cases, allergies or prior health conditions might prevent people from consuming these fruits or veggies.
Or their bodies might absorb them properly. In this case, it's not a bad idea to try out hair growth pills or pills.
You can check out some of these supplements on Amazon:
LxH Hair Skin and Nails Gummies
Follicaide – Hair Growth Follicle Support & Thinning Resistance
What Minerals and Vitamins In Fruits Can Help Hair Growth
Fruits are a wonderful source of nutrition for optimum hair growth and thickness. When it comes to nourishing our bodies, the hair is no exception to this rule.
Each and every one of us has different dietary requirements, so what works for one person may not necessarily work for another, however, there are certain vitamins and minerals in fruits which can assist in the growth, nourishment, and shine of our hair.
One of the vitamins in fruits that can be beneficial to hair growth is Vitamin A. Vitamin A is found in oranges, grapefruits, and lemons. This vitamin helps to keep the scalp healthy and protects the scalp from infections which can cause hair to become weak and brittle. Vitamin A also helps to moisturize the scalp, ensuring its hydration and promoting healthy hair growth.
Other fruits that are a great source of Vitamin C are mangoes, kiwi, berries, and papaya. Vitamin C is essential for the production of collagen, which in turn, strengthens hair follicles and stimulates growth.
Not only does vitamin C help with the production of collagen, but it also helps to reduce inflammation of the scalp, clearing away any dead skin which may be blocking the follicles from growing new hair.
In addition to Vitamin A and Vitamin C, Vitamin E is also found in a variety of fruits. Vitamin E helps to keep the scalp hydrated, making it less likely to experience dryness, itching, or hair loss.
It also provides the scalp with natural hydration and helps to protect the hair from environmental damage such as sun exposure. Almonds, avocados, and blueberries are all full of vitamin E.
Fruits are also packed full of minerals that can help promote healthy hair growth. Iron and zinc, two important minerals needed for hair growth, can be found in many varieties of fruits. Iron and zinc give your hair strength and help stimulate growth, while zinc has been known to help heal and prevent any scalp related issues.
Apples, bananas, cherries, papaya, and mangos are all packed full of the minerals needed for hair growth.
Overall, fruits are an excellent source of vitamins, minerals, and other essential nutrients that can help stimulate hair growth and improve hair thickness.
Eating the right fruits can strengthen and nourish your hair, giving it the glow and thickness everyone desires. Plus, fruits are a delicious way to optimum hair health, so why not incorporate them into our daily diet and reap the wonderful benefits!
How To Use Apple For Hair Growth
Apples are a popular choice for a myriad of health benefits, and their benefits for hair growth and thickness are no exception. Using an apple for hair growth is an easy, natural remedy that can be implemented in just a few simple steps. First, you'll want to blend the apple until it's a paste-like consistency.
This can be done using a standard blender, or you can use an immersion blender. Once you have the desired consistency, you'll be able to use it as a hair mask. The next step is to make sure your hair is thoroughly washed before you begin.
Gently rub the apple paste into your scalp, massaging it in as you go. This will not only help to stimulate hair growth but also ensure that the apple's beneficial properties are penetrating the scalp. As a final step, you'll need to leave the paste on your hair for at least 15 minutes before rinsing it off with cold water.
By doing so, you'll be able to allow the apple's enzymes and nutrients to properly nourish your hair. Using apples for hair growth is an easy way to get the nutrients needed for hair growth and thickness.
It's a natural remedy that requires no additional ingredients or tools and can be done regularly for best results. So if you're looking for a simple and affordable solution to improved hair growth and thickness, give apple a try.
What Are The Best Dry Fruits For Hair Growth
Dry fruits are packed with the vitamins, minerals and antioxidants needed for healthy hair growth. Eating healthy, nutritious and Vitamin A-rich foods is one of the best ways to promote long and thick hair.
When choosing the best dry fruits for hair growth, try to opt for those that are rich in Vitamin A and other essential vitamins and minerals for healthy hair growth. Dates are considered a great option for hair growth and are packed with zinc, Vitamin A and folic acid.
Folic acid plays an important role in strengthening and preventing common hair-related issues like hair loss. Walnuts are a good source of omega 3 fatty acids, iron, zinc and Vitamin A. All of these nutrients are essential for healthy hair growth and shine.
Almonds are a wonderful source of Biotin, Vitamin E and magnesium, all of which contribute towards healthy hair growth and thickness. Raisins are packed with iron, Vitamin C and other minerals vital for hair growth and dense locks. Sultanas are a great source of iron, calcium, zinc and Vitamin A, all of which are important for keeping hair healthy and growing.
Figs are one of the healthiest dry fruits and are rich in Vitamin E, B-complex and Zinc. All of these nutrients help to improve scalp circulation, encouraging healthy hair follicle development. Apricots are a rich source of Vitamin A and can help with thicker and stronger hair.
As you can see, dry fruits offer a plethora of vitamins and minerals necessary for healthy hair growth and thickness. Eating lots of these natural foods on a daily basis will give your hair the nutrition it needs to keep growing and staying healthy.
Additionally, consider taking a hair growth supplement containing a combination of natural ingredients like Vitamin A and iron to get fuller, longer and shinier hair.
What Are The Best Vegetables For Hair Growth
Vegetables are an important part of a healthy diet and can also contribute to hair growth and thickness. Certain types of greens are especially beneficial for hair health thanks to the various vitamins, minerals, and antioxidants they contain.
Some of the best vegetables for promoting hair growth and thickness are broccoli, kale, spinach, and bell peppers. Broccoli is rich in vitamins B, C, and E, as well as important minerals like iron, zinc, and magnesium which are essential for healthy and thick hair.
Kale is an excellent source of vitamin A, which helps keep your scalp healthy and boosts hair growth, while spinach is packed with vitamins C and A and iron, contributing to healthy and strong hair. Finally, bell peppers are filled with antioxidants and vitamin C, making them beneficial for hair health and promoting the growth of thicker and stronger tresses.
Including these vegetables in your diet can help improve the overall health of your hair and prevent hair loss. Consuming them fresh or cooked and in a variety of forms is the best way to ensure that you reap their numerous benefits.
From salads to smoothies and stir-frys, there are plenty of ways to enjoy these vegetables and help nourish your hair from the inside out.
FAQs about fruits for hair growth and thickness
Conclusion
Now that you have read this article, you know what to do the next time you see a lot of hair in the shower or on your hairbrush.
Eat more fruits and vegetables of course! Yes, it might seem like a simplistic solution. But it's a good start.
Plus, you can always combine a healthy diet with nourishing shampoos, conditioners, hair creams, and other products.
If your hair loss has got too severe to handle, there are several supplements, hair growth serums, etc. in the market too.
You can ask your trichologist or get them over the counter.
Why You Should Trust Haireveryday?
The author of this article, Leah Marie Priest has a degree in Cosmetology with years of experience in dealing with hair care, scalp care, and hairstyling. As someone who extensively deals with all kinds of hair textures, products, styling methods and more, hair Leah Marie knows what kind of products and procedures suit each hair type and person. We have also tested these hair products and processes ourselves to provide you an unbiased review about every product. Each of our articles are also reviewed by a team of medical professionals so that you get the most accurate and expert-reviewed information.
Also Read:
Top DHT blocker shampoos for hair loss
Best shampoos for postpartum hair loss
Top biotin shampoos for hair growth
Top Japanese hair loss shampoos