Have you been looking for Half Red Half Purple Hair Ideas? Look no further, we have the perfect guide for you. In this post, we will be sharing hairstyles that will suit both types of hair.
The purple and red combination is the new trend that is bringing new fashion standards. Anyone applying that combination allows the hair to get the tint of burgundy.
Celebrities like Katy Perry and Joss Stone raised the bar of hair coloring first when they opted for this look. The hair color combination gives a bossy vibe and doesn't require any specific symmetry.
If you are someone who likes to experiment with hair color and looks, this is the article where you need to stick to.
Here, I will share some of the best hair combinations looks to have with the purple and red combination. All the listed looks are in high demand and are chosen by the majority.
To make the experience more informative, I will share some of my personal tips to retain hair. By the conclusion, you will also get to know how to amp for this color combination gracefully. Read along with us and let's grab some looks and informative points.
Top Half Red Half Purple Hair Ideas 2023
Straight and Simple Curls
Red and purple both go into the category of dark hair color and to have a high amp of this look, I will recommend you to go for simple curls. No heavy curls are required if you have voluminous hair.
You can do the curls using the braids technique. Do the braids a day before, tightly. Enjoy the simple curly hair the next day. For a more beautiful look, you can use hair bands.
Front Bob
Front cut with 100% straight hair is asked of everyone. The front short bangs and the completely straight hair is the best formal look I can choose to have.
With this haircut, you can choose to have half red hair and half purple hair. The hair looks absolutely astonishing if you choose to mix the symmetry of both colors.
Complete Straight
A Completely straight hairstyle is my choice every time I choose a hairstyle. If you are a straight hairstyle lover, get the permanent hair straightening done before the hair coloring.
You must be looking to get the hair styled using the hair straightener. I will not recommend you use the hair straightener on a daily basis because this will harm your hair quality.
Simple long bangs in the front with the name of layer haircut will give your hair a perfect look.
Short Minimum Curls
Short hair with these two hair color combinations looks cutest. All credit goes to hair color because dark hair color gives a high-quality hair look. Above that, if you opt for minimum curls, then it is best.
The curls I am referring to here can only be placed using the hair curler machine. You may do it using the curling bands, but perfection can be gained using the hair curler machine.
Lighter Onion Hair
A lighter shade to go for is risky sometimes because it may not look good on you. There are 10 out of 15 people look graceful with this hair color combination. The minimum hair curls are the best thing you can do with your hair. All you have is a bold hair color with the cutest curls.
This hair idea has largely opted with a black outfit and red lips. If you're heading up for an important evening, this is the best look you can choose for yourself.
Continuous Strands
Here the choice isn't half-side red and half-side purple. Here the motive is to give half the quantity of the hair red color and the half purple color.
This hair color look can be glammed with the hair straightening only. You can have a straight cut at the bottom for a more graceful look.
Intense Bottom Curls
Intense bottom curls go with short hair and with long hair as well. It is highly recommended to the short hair lover to go for heavy curls at the bottom.
Heavy curls work on the slightest of your hair and make it look heavy. You can choose this hairstyle with informal dressing patterns because it will give you the cutest look.
Glossy Mid-Sized Curls
Complete curls are not recommended for everyone. Curls from the mid-size hair length are what I recommend to everyone. the mid-size hair curls you can have after getting your hair colored.
This is the hair styling idea that doesn't require you to use any hair pins to amp the look. The hair looks heavy without any addition by the wig.
Long Hair Curls
Long hair looks magical when colored. If you choose this beautiful combination, then long hair is exactly what you should have. Long hair brings in the best texture to the hair and you can style it in any way you want.
The wavy curls here are the best thing to do with your hair. You can do the hair curling here by using the curling bands because I am talking about minimum long curls and not intense curls.
Wavy Hair
The wavy hair hairstyle is aced by the voluminous hair keeper. Wavy hair is a lot to maintain because it gets frizzy and all dry.
Once it gets frizzy the glace gets over. For maintaining the hair with this look I will recommend a few spa treatments as well.
Waterfall Curls
During the whole context, you will find more curls. The reason is the heaviness that it provides. Waterfall curls are something one can have only using a curling iron.
I will recommend you opt for this look after a few days of getting your hair colored. Don't immediately fall for this look, because it will damage your hair.
Curls From Upper End
Curls from the upper till the lower ends are for the ones who are blessed with voluminous hair. The advantage of having this look is no heat involvement.
This can be gained naturally. All you gotta do is get braids done tightly the night before and don't comb the whole hair the other day. Once hair absorbs the shape, it gets easy to enjoy this look.
Extra Purple And Less Red
Extra purple means having a barbie doll shade. Anyone who wishes to doll up cute and go for this color more.
If you need a tint of a darker shade just apply 2% of the red color combination with it the magical hair color will be brighter purple with a tint of red. The lighter hair color should have simple flawless curls with straightening from the roots.
Soft Straight Combination
The softest hairstyle with this color combination is straight. As mentioned before, straight hair goes with every attire you pick and every complexion you have.
To have this softest look you can mix both colors and then apply it to the hair. Or you can apply purple at first and red in the same spaces.
You can do vice-versa. The boldest move is to have a round cut from front to end with some extra fringes in the front side.
Red And Purple Mixed Together
Cosplay Half Red Half Purple Neon Hair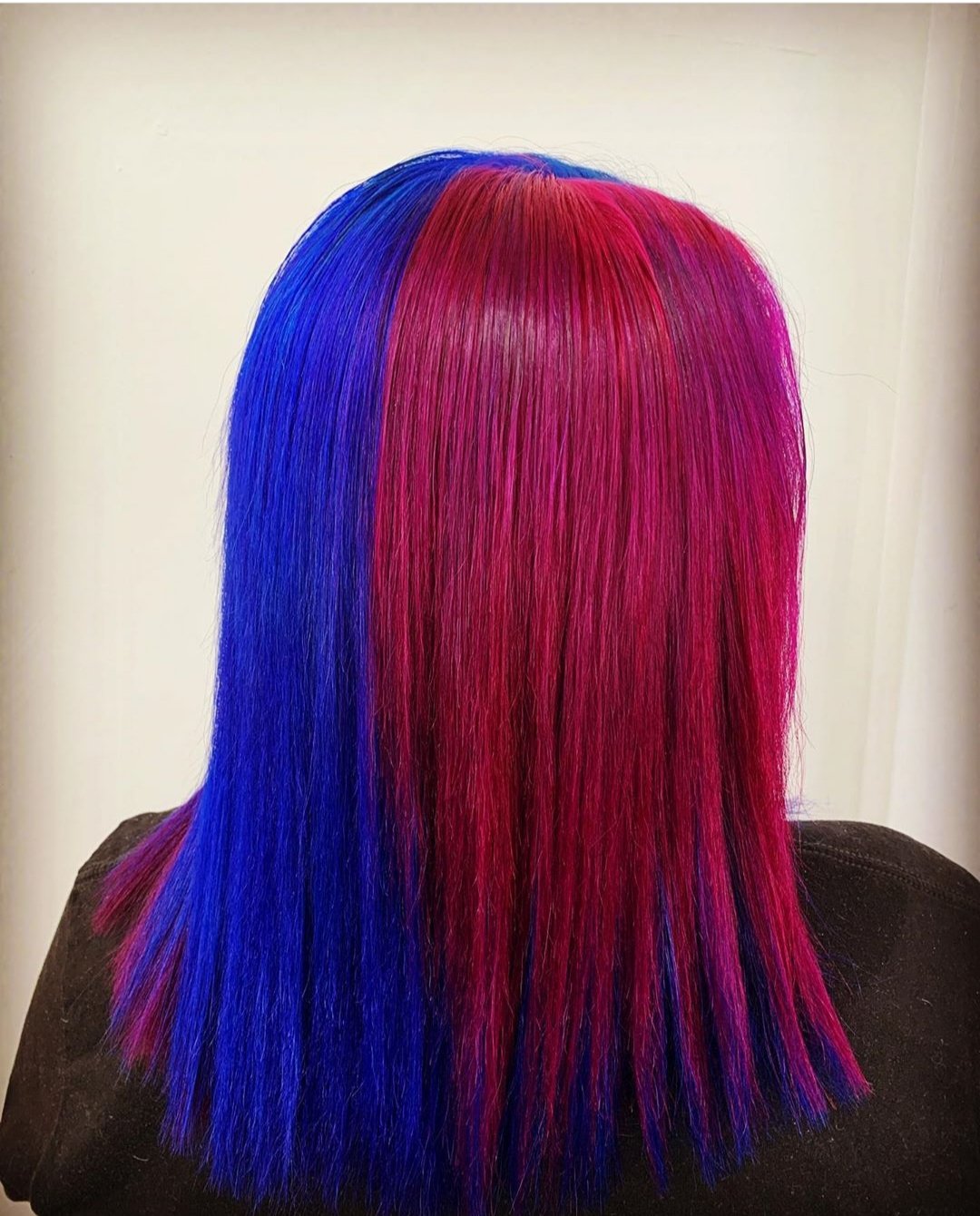 Short Purple And Red Hair
How To Get This Half Purple Half Red Hair  
The elegant hair combination is ruling the hearts and you can revamp yourself with this party look in two ways. The first is booking an appointment with your favorite saloon and the next is a self-artist.
For appointment booking, don't just book an appointment with any salon near you. Find the appointment of those who are professional and not just mere hair color providers.
Empty your slots for the day because this is going to take time. The color needs patience because it is a combination of two colors that are dark.
If you are a self-artist then you need to have a good hair color for yourself. You can choose any symmetry for the hair color combination or you can choose to mix two colors for one fine color is burgundy.
For self-coloring, you need to first wash your hair for 2 hours. Take a bowl and empty either of the colors. Make a partition in the hair as per the symmetry.
Apply the first color to the first half of the symmetry and immediately start applying it to the other side.
Keep the colors for around 45 minutes and then wash them. Don't forget to apply hair serum for better hair results. 
Tips To Maintain Dual Toned Hair Color
Choosing the color and applying it is easy. The tough spot comes from maintaining it in the long run. To keep up with the charm of these hair color combinations, you are required to check the list mentioned below:
Don't forget your hair still grows and needs a touchup because what you applied is not permanent. To keep the symmetry the same, attend the touch-up sessions.
In case you find the hair grows before expectations, contact the specialist for an immediate appointment.
Use good quality hair color because it is all about your hair. Protecting it from the chemicals if you're concerned. Don't forget to check for ammonia-free hair colors.
Don't use any heat stylers. After getting your hair colored, avoid using any heat stylers for a month and more.
Why You Should Trust Haireveryday?
The author of this article, Leah Marie Priest has a degree in Cosmetology with years of experience in dealing with hair care, scalp care, and hairstyling. As someone who extensively deals with all kinds of hair textures, products, styling methods and more, hair Leah Marie knows what kind of products and procedures suit each hair type and person. We have also tested these hair products and processes ourselves to provide you an unbiased review about every product. Each of our articles are also reviewed by a team of medical professionals so that you get the most accurate and expert-reviewed information.
Conclusion
Red and Purple hair combinations are rarely picked because of the dark hair effects it brings out. People fall for blonde hair color options more because it brightens up the hair.
You must have loved the look this hair color combination brings in. If we are on the same page, don't forget to follow the tips and try some of our mentioned simple looks.
Also Read: